Elections watchdog welcomes new investigatory powers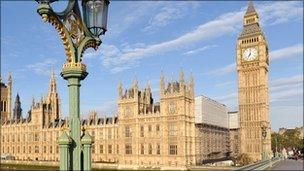 The Electoral Commission has welcomed new powers to investigate and punish political parties that break the law.
The elections watchdog, which also regulates political party funding, will be able to impose fines of up to £20,000 for serious rules breaches.
It will also be able to demand information from political donors when it believes the law has been broken.
The watchdog had faced criticism for being slow to act in a series of donation and loan controversies.
From 1 December the Electoral Commission will be able to issue more fines, issue "compliance notices" and demand information from suspect donors.
The powers were outlined in the Political Parties, Elections and Referendums (Civil Sanctions) Order 2010 - which was approved in the Commons and Lords this week.
A spokesman said it was part of long-running calls from the commission to strengthen its powers and sanctions to bring them into line with other regulators.
The body's director of party and election finance, Lisa Klein, said: "Our focus will remain on working with political parties, campaign groups and individuals to ensure that they understand the law and get things right.
"But where breaches or suspected breaches of the law do occur, we will be able to use these new powers and sanctions to help us enforce the law effectively and proportionately. The order contains safeguards to ensure that we use these powers and sanctions appropriately."
Previously fines were restricted to late submissions of donations and financial reports. Parties guilty of receiving impermissible donations had to forfeit them but were not fined.
But from December parties could face a maximum £20,000 fine for the most serious breaches.
The commission will also be able to impose a fixed £200 fine for minor offences like first rule breaches by small parties. And it will be able to demand information from donors themselves - not just the political parties who receive them as at present.
Parties that repeatedly break the rules will face fines of between £250 and £5,000. For the most serious breaches - judged to be those that could be tried at a crown court - the fine could rise to £20,000.
Related Internet Links
The BBC is not responsible for the content of external sites.