Milligan's week: My voicemail moment of truth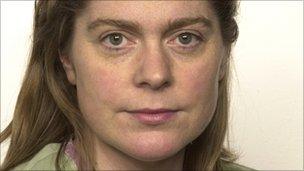 I was thinking this week about how much we really know about what goes on behind the scenes in government.
Not a great deal, I suspect, we get glimpses with a leak here, an overheard remark there, but in all honesty not a lot.
But this week, by accident, I heard a little bit from inside the loop.
The spending review dominated the agenda and politicians were loath to talk about anything else.
I wanted to talk about other things.
Charming press officers and SPADs (special people with special powers, who are very close to ministers) would sigh into the phone: "You are aware that this is a particularly busy week."
They never quite said no, politely took my number, often repeating it twice back to me, but I didn't hear another squeak.
I resorted to begging. Undignified yes, but it can sometimes yield results.
After one particularly humiliating, on my knees, appeal, ("Oh please, pleeeeeeese, I promise I won't take more than five seconds. Really, he can just mutter into my microphone, I won't ask any questions, a grunt will be enough. Oh, if only to hear his voice." etc) the SPAD I was speaking to, who'd kindly laughed at my tedious jokes, adding the mantra, "You do know this is a particularly busy week," promised to call back.
And holy cow, he did - the following day.
I had momentarily nipped out of the office for a gasp of fresh air and missed it. Hell, but there was a message. Yippee, it will be the crucial missing link for my report.
I dialled up the message and listened.
Two muffled voices, four minutes long. Were they in a public loo on Clapham Common?
As I listened, it sadly dawned on me that he hadn't intended to call me at all, but had, in all likelihood, sat on his phone which had dutifully dialled up my number.
Previously this SPAD had informed me his department was all running as smooth as hands through silk.
Here is an excerpt of that phone message.
Unknown voice of authority: "Has our policy changed ....(words missing)....they were so angry...(dip)... the politics of it."
Slightly squeaky SPAD: "It's not my area of expertise".
Back to the voice: "I got hijacked."
I couldn't possibly bore you with all the to-ings and fro-ings, of what, let's face it, was a pretty excruciating message.
But there I had a little insight into what was really going on behind the scenes in that department. An insight we are not often privy to.
A former colleague who took a job in government told me she had experienced the "iceberg effect".
She had previously only been aware of the visible tip outside the loop, now inside she saw for the first time the whole massive thing below the water line.
Oh the stories I would do now, but she wasn't going to let me inside the loop.
Perhaps if we knew it all we might get very nervous.
It's entertaining to know some it some of the time, but all the time? Is it better not to know, and if you do, not to tell anyone.
I felt that tingle of anxiety when an MP showed me texts they received from a senior minister to drive home their point about the type of man he is. Cripes.
Observe the lobby rules or write it up on Twitter?