New threat for Blackburn school rebuilding scheme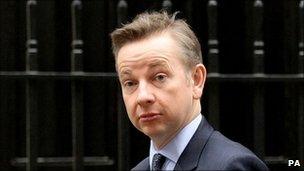 Blackburn with Darwen council's school rebuilding scheme is facing a further threat after officials were told to make 40% savings, its leader said.
Councils given the green light despite the axe falling on Building Schools for Future (BSF) in July were told on Thursday to bring their costs down.
Education Secretary Michael Gove said authorities had known since 5 July that they might need to make further cuts.
But leader Kate Hollern said the news had come completely out of the blue.
Of the eight schools included in the borough's £210m BSF scheme, four have reached financial close.
But the announcement leaves the refurbishment of Our Lady and St John Catholic College, St Bede's RC High School, Tauheedul Islam Girls High School and the St Thomas Centre Pupil Referral Unit in doubt.
Mrs Hollern, leader of the Labour-run council, described the news as "a real blow" and said the projects at the four schools were now at serious risk.
"It's been absolutely appalling the way the information has been translated. You would expect something like that to be announced in the Spending Review - but it wasn't," she said.
"The council was invited to a teleconference at five o'clock on Thursday night and despite being reassured in July the programme was still safe, we were informed there was an up to £40m cut.
"For the schools in some cases it will be a bit of remodelling, in some cases it may just be a case of a lick of paint. It's a disgrace when schools and children were expecting far better."
The council said the full impact of the directive - and the savings expected to be made - will not be finalised until 20 November.
Speaking to the BBC Politics Show on Sunday, Mr Gove insisted that authorities were told of the need to make further savings on 5 July.
"This is a time when anyone who is in negotiations with a building company will be wanting to bring costs down from the level they might have been paying two or three years ago," he said.
"Right at the beginning we made it clear that we were going to negotiate with the builders in order to make sure we could make every building as efficient as possible. That's why we launched our capital review."
Related Internet Links
The BBC is not responsible for the content of external sites.