Thatcher 'making good progress' in hospital after flu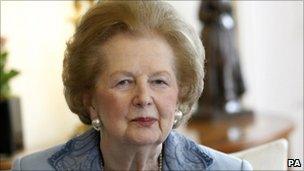 Baroness Thatcher is to stay in hospital for at least the next few days as she continues to recover from flu.
The former prime minister is said to be "making good progress" after almost a week at Cromwell Hospital, west London.
At the weekend she was sitting up in a chair and feeling much brighter, and her spokesman said she remained fine.
Lady Thatcher was forced to pull out of a Downing Street reception hosted by Prime Minister David Cameron to mark her 85th birthday on 14 October.
The event went ahead without her, with Mr Cameron relaying a message of regret from her to the 150 guests.
Lady Thatcher, who has previously suffered minor strokes, rarely speaks in public, but still attends public functions.