Ed Miliband doing well as leader, says Lord Mandelson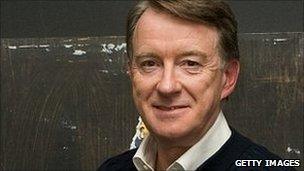 Ed Miliband has made "a good start" as Labour leader, former Business Secretary Lord Mandelson has said.
The peer, who has previously been critical of Mr Miliband, praised his "strength and personal qualities".
He also commended his approach to cutting the deficit, calling coalition ministers "one-club golfers", who were too focused on making rapid cuts.
And Lord Mandelson defended former PM Gordon Brown, saying the public admired his "grasp of the big picture".
During the recent Labour leadership campaign, the peer, a long-time ally of Tony Blair, was a strong supporter of Mr Miliband's brother David.
He warned of an "electoral cul-de-sac" if the next leader tried to create a "pre-New Labour party".
Many took this as a criticism of Ed Miliband, who had said Labour had to leave a "comfort zone" created by 13 years in power.
But Lord Mandelson told BBC Radio 4's Today programme: "I'm sorry that my words were represented as a personal attack on Ed. I didn't intend that.
"I was not worried at the time, and I'm not worried now, about his personal qualities and his strength of personality, but, above all, the job of a political leader is to present an electoral strategy to his party that is winning and to succeed.
"And I wasn't making this observation only in relation to Ed Miliband. You need to put together an electoral strategy that combines the centre and the left.
"You need to appeal to middle England... and that puts the right emphasis on economic competence and efficiency as well as social justice.
"If you ask me what my score card is for the leader of the opposition, I would say that he's got off to a good start."
Lord Mandelson contrasted Mr Miliband's "sensible position" on the spending cuts with those on the left of his party, whom he called "deficit-deniers", and the Conservative and Liberal Democrat "one-club golfers" in government.
He said Mr Miliband was adopting a "very economically sensible third way", similar to that of the last Labour Chancellor, Alistair Darling, who proposed halving the structural budget deficit in four years.
The peer's comments come as a documentary about his role in the campaign for May's general election is due to be shown soon on BBC Four. In it he criticises aspects of Gordon Brown's performance as leader, including his presentation skills.
But Lord Mandelson told Today: "I think that people rated him not for his likeability but for his grasp of the big picture."