Lib Dem MPs push ministers for low tuition fee cap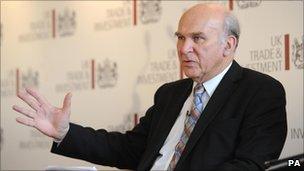 Backbench Lib Dem MPs are pushing for the lowest possible cap on university tuition fees, the BBC understands.
It is thought the issue has been the subject of "lively" talks between Lib Dem MPs and ministers.
The government is expected to announce its response to Lord Browne's report on higher education funding as early as next week.
Business Secretary Vince Cable says student contributions to top up fees could be capped at about £7,000.
Lord Browne recommended that the cap on fees, currently set at £3,290, could be removed altogether, with universities charging more than £6,000 would be charged an increasing levy on each further £1,000.
However, ministers appear to have so far ruled out allowing universities to to set unlimited tuition fees in England.
The Russell Group, which represents Britain's top universities, has said "rowing back from Browne" by not giving universities the power to set their fees would be a "wasted opportunity".
But Mr Cable is believed to be coming under pressure from Lib Dem backbenchers for an even lower cap than the £7,000 he is suggesting.
Lib Dem sources told the BBC: "The lower the cap and the harder the cap the better."
There are also calls to raise the income threshold at which fees have to repaid from the £21,000 a year salary suggested by Lord Browne to £26,000.
Lib Dem deputy leader Simon Hughes is thought to have raised the issue in talks with deputy prime minister Nick Clegg.
Graduates currently do not have to start paying their loans back until they earn £15,000.
Under Lord Browne's proposals the current subsidised interest rate of 1.5% would be raised to the government's cost of borrowing (currently 2.2%) plus inflation (RPI).
There are also rumblings of discontent on the Lib Dem benches about funding for disadvantaged school children in England, following news that the "pupil premium" would be part-funded from the education budget.
MPs are due to debate the Spending Review in the Commons on Wednesday.