Armed forces chief Sir Jock Stirrup to become a lord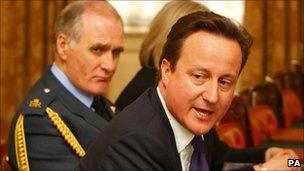 Britain's most senior military officer is to be awarded a peerage and will join the House of Lords.
Air Chief Marshal Sir Jock Stirrup, who is retiring this week from his job as Chief of the Defence Staff, gets a non-political life peerage.
He is being replaced in the military by Gen Sir David Richards.
Sir Jock has been head of the armed forced since 2006 and had been asked to extend his term until next April by the previous government.
His departure was then brought forward by Defence Secretary Liam Fox after the coalition government took power, although Dr Fox denied the former fighter pilot had been sacked.
Being elevated to the Lords is an honour which is regularly granted to former Chiefs of the Defence Staff (CDS).
Sir Jock told BBC Radio 4's The World at One that he would maintain his interest in defence once he took up his seat in the Lords.
He said he planned to use his new role to make sure that the government increased defence spending in the future but added: "I haven't had time really to think about my future because we have been doing the defence review up until last week.
"When I hand over to my good friend and very able successor Sir David Richards, I will then have the opportunity to take stock and decide what I shall move on to next."
Prime Minister David Cameron said he was "extremely pleased" at the news of Sir Jock's peerage.
"I applaud him for his excellent leadership throughout his time as CDS, which has seen a particularly demanding tempo of activity, including the withdrawal from Iraq and ongoing operations in Afghanistan," he said.
"I also want to thank him for the considered advice and remarkable support he has provided to me as we worked together on critical issues, in particular the Strategic Defence and Security Review."
Dr Fox said Sir Jock's peerage was "appropriate recognition for the dedication he has shown in public life and his contribution to the armed forces".
In the BBC interview Sir Jock said he was not stepping down in early, but in fact would have preferred to have retired at the beginning of 2010.
He said: "I've had this particular time pencilled in for my retirement for most of the last year so the notion that I'm stepping down early is frankly nonsense."
He said the worst moments during his tenure were hearing about casualties.
"Every day of the last four and a half years I have had to ask myself 'is the UK gaining sufficient strategic benefit for the price our people are paying?'
"That is not an easy calculus to make because how do you weigh someone's life or limbs against strategic benefit? But it's a judgement one has to make because if I ever reach the conclusion that the answer is no, and nor is there any prospect of gaining sufficient strategic benefit - that's the time I have to tell the prime minister 'you have got to get us out'.
"Thus far the answer has always been yes."
He also said that the bulk of troops would not be withdrawn from Afghanistan for four years but there had been progress in the country.
"All of the progress that I see in Afghanistan - and I do see progress, there's no doubt about that - is far from irreversible.
"And we have to sustain the commitment, we have to sustain the pressure. My own view is that we are bound to succeed in Afghanistan, measured against our version of success, which of course is strictly limited in terms of its ambitions, we are bound to succeed if the international community can sustain the will and effort for long enough. That's the key."
He backed the strategic defence review, saying: "We will need to see real terms growth expenditure, year on year, for the second part of this decade. I made this point very forcefully to the chancellor."
Although he admitted the country's armed forces would become smaller in the future, he said it would still be capable of defending the nation's interests.
He also revealed that despite its difficult past in Afghanistan, Russia would be aiding the military effort there as it had a stake in the country's future.
"All the neighbouring countries, not just those that border Afghanistan but the near neighbours [will be involved]. They have a stake in the stability of the region, so you would naturally expect them to be interested and involved.
"But also Afghanistan has to survive within the region. Its economy has to survive; it has to have trading partners. It has to have good relationships with its neighbours."
Meanwhile Foreign Secretary William Hague also said that "steady progress" was being made in Afghanistan but admitted levels of violence could increase.
He said the increase in military activity meant that there had been a sharp increase in the number of incidents involving violence against Afghan and international Isaf forces.
He also told the House of Commons: "The government is confident that we have the right military strategy in place and the right number of troops in Afghanistan.
He said a phased transition was expected with British forces drawn from combat operations by 2015.
Related Internet Links
The BBC is not responsible for the content of external sites.