MP calls for Cameron apology over question time error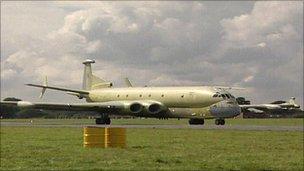 An MP has called for David Cameron to apologise for an apparent error during prime minister's questions.
Labour's Mark Tami said Mr Cameron had mistakenly claimed BAE Systems would benefit from a contract to build the A400M military transport plane.
The Alyn and Deeside MP said the aircraft was in fact being built by EADS and Airbus.
Commons Speaker John Bercow said the prime minister would not return to the Commons to apologise.
Raising a point of order, Mr Tami said: "In Prime Minister's questions, the Prime Minister stated that BAE Systems' loss of work under the defence review would somehow be offset by the A400M programme.
"The A400M programme is in fact an EADS/Airbus programme and not a BAE Systems programme as the prime minister seems to think, and they will have little or no involvement in that programme.
"So will he come to the House and actually apologise."
Mr Bercow said: "'No' is the short answer to that."
At prime minister's questions, the Macclesfield Conservative MP David Rutley told the Mr Cameron the decision to cancel the Nimrod spy-plane programme would result in a BAE site near Macclesfield being closed.
Mr Cameron said the government had made difficult decisions in the defence review, including those about Nimrod.
He told Mr Rutley: "In terms of BAE as a whole, we will actually be spending £17bn with that company between now and 2015 on a range of projects including obviously the A400M and others."