Ministers 'keen to keep' costly press cuttings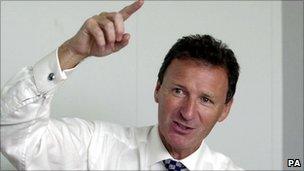 A top civil servant has revealed some ministers still receive paper copies of their press cuttings, despite criticism they are too costly.
Head of the Civil Service Sir Gus O'Donnell told MPs cheaper online options were available.
But some ministers were keen on hard copies, he told the Commons Public Administration Committee.
The Cabinet Office later confirmed Nick Clegg, Francis Maude and Mark Harper still received the cuttings.
Cabinet Secretary Sir Gus told the committee: "I think when it comes to press cuttings I personally am strongly with you, that I cannot see a reason why you couldn't use electronic methods of doing this.
"But there are a number of ministers who are quite keen to have physically a copy of press cuttings.
"That is the way they wish to spend their money. They have got a third less to spend."
He said he was encouraging them to use online services like Google Alerts and Factiva.
A spokesman for the Cabinet Office declined to say how much it spent on the service, arguing unaudited figures were not sufficiently accurate to be published.
The spokesman said the department was in the middle of considering whether cuttings could be acquired differently and more cheaply.
However, it was one of the areas Communities Secretary Eric Pickles singled out for the axe after coming to office, as spending cuts are implemented across Whitehall.
He told Total Politics Magazine in July that press cuttings had been costing his department alone £10,000 a month.
Related Internet Links
The BBC is not responsible for the content of external sites.