David Cameron and Angela Merkel meet for talks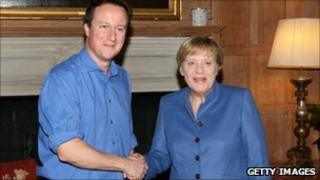 David Cameron has held "substantive" talks with the German Chancellor, Angela Merkel, about Europe, security and trade, Downing Street says.
A spokesman said "there was absolute agreement between the leaders that restraint needed to be shown in EU spending" at the Chequers talks.
Both leaders want the 2011 EU budget to increase by no more than 2.9%.
Mr Cameron updated Mrs Merkel on the cargo bomb plot; they agreed to continue co-operation over terrorism.
The pair also discussed the state of the global economy in advance of the Seoul G20 summit.
It was also agreed that Britain, Germany, Turkey and Indonesia would set up a working group to look into ways of boosting global trade.
They group has been tasked to report early in the New Year with recommendations on how to liberalise trade.
It will be led by Peter Sutherland, a former head of the World Trade Organisation, and Jagdish Bhagwati, a trade expert and professor at New York's Columbia University.
Mr Cameron and Mrs Merkel also discussed foreign policy and in particular Afghanistan.
The Downing Street spokesman said they were both "steadfast" in their commitment to the Afghan mission.
The two leaders also called on Iran to return to the negotiating table on its nuclear programme and urged Israel and the Palestinians to commit to peace talks.