Confidential MPs' discussions broadcast live on net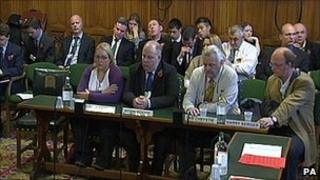 A private session in which MPs discussed plans for controversial police reforms was accidentally broadcast live, it has emerged.
The Home Affairs Committee held a meeting behind closed doors on Tuesday to discuss a forthcoming report on directly elected police commissioners.
However, the proceedings were available for two hours to anyone listening through the Parliament Live TV website.
Committee chairman Keith Vaz said there had been an "inadvertent" error.
The cross-party committee had earlier been taking evidence in public about Home Office funding, its witnesses including the department's top civil servant Sir David Normington.
These proceedings, like all public hearings of House of Commons committees, are routinely shown via the Parliament Live TV website.
'Grateful'
However, after MPs then withdrew to deliberate in private, the audio feed continued to be broadcast and was available to anyone with an internet connection.
"A private session of the home affairs select committee, when we were considering our report into police and crime commissioners, had the sound feed inadvertently left on," Mr Vaz said.
Mr Vaz said the error had been picked up by a journalist working for the Press Association (PA) but the news agency had agreed not to report the substance or the conclusions of the conversations.
"I am most grateful that even though they had this information, PA is choosing to respect Parliament in this manner," he added.
The Press Association said the mistake, which it attributed to human error, had "exposed" the key recommendations of the committee's report into government plans for elected police commissioners - designed to replace existing police authorities.
However, it gave no details of what the recommendations were.