Sir John Major urges Tory and Lib Dem pact to continue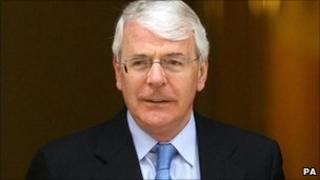 The coalition formed by the Conservatives and the Liberal Democrats should continue after the next general election, Sir John Major has said.
The former prime minister said the "temporary alliance" could turn into a "mini-realignment" of politics.
He made the call during a speech at Cambridge University's Churchill College on Friday.
The two parties made a pact to work together for five years, until the next election in May 2015.
But David Cameron has maintained that he wants to implement a sole Conservative government after the next election - should his party win.
Although the Tories won most seats in this year's general election, they did not gain enough of them to secure an overall Commons majority.
'Tolerant electorate'
In a speech to mark the 50th anniversary of the Cambridge University college, published in full by the Daily Telegraph, Sir John Major said the challenges facing the coalition would take more than five years to overcome.
He said: "Many Tories and Liberals are hostile - or, at least, agnostic - to the coalition. I approve of it.
"In present circumstances, it has many attractions: not least that two parties are more likely to enjoy a tolerant electorate for policies that are painful."
He said the coalition could change the future of British politics - echoing the words of his successors.
When Prime Minister David Cameron and his Lib Dem deputy, Nick Clegg, announced the creation of a coalition in the days following the election, they also said it could mark "a historic and seismic shift" in British politics.
In his speech, Sir John, who led the government between 1990 and 1997, asked "Can the coalition achieve its purpose in five years?"
He added: "It will be hard pounding but its programme is essential to national well-being and so, if uncompleted, I hope some way can be found to prolong co-operation beyond this Parliament.
"It may be that a temporary alliance will turn into a mini realignment of politics: after all, in a world that is changing so comprehensively, why should politics not change, too?"
Sir John, who is the most senior Conservative so far to show his support for a continuing merger, said it was unlikely that either party would, at the moment, publicly admit a preference for the coalition over a single party government.
"Neither party will admit that possibility at present, not least because it would upset their core vote but - if events turn out well for the coalition - I, for one, would not be surprised at that outcome," he said.
His comments were later supported by fellow Tory, Jacob Rees Mogg, the MP for north east Somerset.
He said: "I think we ought to fight the next election as a coalition.
"If we govern successfully as a coalition it would be absurd to oppose each other in seats like Sheffield Hallam or Somerton and Frome at the next general election, so I hope that we do get through the next five years and fight as a coalition."
He added that the deal had been mutually beneficial for the two parties.
He said: "I think if we had been doing this on 40% of the vote, rather than 59% we've got as a coalition, it would have been very difficult to carry the country with us.
"Now, in return for that, I think we need to make a generous offer to the Liberals at the next election, because they face being wiped out if we don't."
The Lib Dem MP for Birmingham Yardley, John Hemming, cast doubt on the chances of a pact and said: "It's a bit odd really, because we're expecting to fight the next general election as a separate party.
"If you go just a little bit to the east from my parliamentary seat you have Solihull. And in Solihull there is an arrangement running at the council between the Liberal Democrats and the Labour Party."
Lib Dem blogger and activist Helen Duffett agreed: "Is John Major trying to engineer some kind of merger?
"It's not going to happen, we're separate parties. We've agreed to work together at the moment for the sake of the nation. But it doesn't mean we're about to merge any time soon."
Before he was elected Labour leader, Ed Miliband ruled out a future coalition deal with the Lib Dems if Nick Clegg remained the party's leader.
He said that the deputy prime minister's support for the government's spending cuts would make it "pretty hard" to work with him.