US State Department leaks 'to embarrass David Cameron'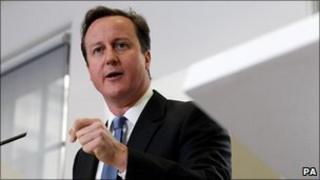 A leak of US government documents will cause embarrassment to Prime Minister David Cameron and his predecessor Gordon Brown, the BBC has been told.
Guardian writer Simon Hoggart, whose paper has begun publishing details of the files, said they would show the PM was "not very highly regarded".
The documents are among thousands leaked from State Department files to the Wikileaks whistleblowers' website.
The Foreign Office said the leaks could damage national security.
The leak is expected to include documents covering US dealings and diplomats' confidential views of countries including Australia, Canada, Israel, Russia, Turkey and the United Kingdom.
'Candid views'
Speaking on BBC One's Andrew Marr Show, Mr Hoggart confirmed the Guardian would be releasing extensive details of the files overnight.
He said: "It is going to give the candid American views of world leaders and indeed the reverse too.
"There is going to be some embarrassment, certainly for Gordon Brown, but even more so for David Cameron, who was not very highly regarded by the Obama administration or by the US ambassador here."
Earlier this week Wikileaks said release of files would be nearly seven times larger than the nearly 400,000 Pentagon documents related to the Iraq war it published in October.
The UK Ministry of Defence has urged newspaper editors to "bear in mind" the national security implications of publishing the information.
The US government has warned the leaks will threaten global counter-terrorism operations and jeopardise America's relations with its allies.
But Wikileaks argues that its previous releases shed light on the wars in Afghanistan and Iraq. They included allegations of torture by Iraqi forces and reports that suggested 15,000 additional civilian deaths in Iraq.
'Strong relationship'
A Foreign Office spokesman told the BBC: "We condemn any unauthorised release of this classified information, just as we condemn leaks of classified material in the UK.
"They can damage national security, are not in the national interest and, as the US have said, may put lives at risk.
"We have a very strong relationship with the US government. That will continue".
The US ambassador to London, Louis Susman, said he did not believe the leaked diplomatic communications regarding British politicians would damage Anglo-American relations.
"Diplomatic cables inform the foreign policy decisions made by the US government but should not be seen as representing US policy on their own," he said.
"They are a part of the extensive co-operation we have with other countries, which is based on relationships of trust, so that we can share perspectives on events in confidence.
"When this trust is betrayed, it is harmful to the United States and our interests.
"However, I am confident that our uniquely productive relationship with the United Kingdom will remain close and strong, focused on promoting our shared objectives and values."