MPs set for crucial vote on tuition fees on 9 December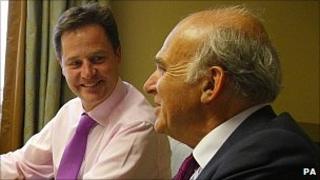 MPs are to vote on controversial plans to raise tuition fees in England on 9 December, ministers have confirmed.
The vote will be a critical test for the coalition, which has faced mass protests over its plan to nearly double fees to £6,000 and allow charges of up to £9,000 for some courses.
The Lib Dems have come under heavy pressure after pledging before the election to oppose any fee rise.
Ministers insist the proposals are fairer than the current system.
But student leaders say the proposals - which followed the independent Browne review of student finance - will deter people from poorer backgrounds from applying to university.
The National Union of Students have said they will hold a "day of action" on Wednesday 8 December, on the eve of the Commons vote.
The deputy prime minister and Lib Dem party leader Nick Clegg has been speaking to all his MPs to try and forge an agreed position on what the party will do when the issue comes before Parliament.
Voting intentions
The Lib Dems' coalition agreement with the Conservatives allows their MPs to abstain in votes on tuition fees, reflecting the party's longstanding opposition to the charges - currently capped at £3,290.
However, a number of Lib Dem MPs - including party president Tim Farron and former leader Sir Menzies Campbell - have indicated they intend to vote against.
Business Secretary Vince Cable, who drew up the reform package, has said his "strong inclination" is to vote for the proposals.
However he has hinted he might abstain if that is what his party agrees - a position described as "outrageous" by Labour.
Student leaders have accused the Lib Dems of betraying their pre-election pledge not to raise fees and the party has been the focus of anger at protests across the country in recent weeks.
But Mr Clegg and Mr Cable have defended the proposals - which will see no upfront payments and graduates starting to repay the cost of their degrees when they earn £21,000.
They say low-earning students will contribute less than under the system the coalition inherited.
The BBC's Political Correspondent Carole Walker said Thursday's vote would be limited to whether to approve the £9,000 fee ceiling for 2012-3 and other matters would be considered in the new year - when ministers are expected to publish a white paper on the future of universities.
The Conservatives largely support the rise in fees, which they argue is needed to ensure British universities remain competitive.
However Labour has accused the government of curtailing public funding for most degree courses and passing the financial burden onto students.
Leader Ed Miliband's plan for an alternative graduate tax - where graduates would pay a percentage of their income towards the cost of their university education - has yet to win the backing of key figures such as shadow chancellor Alan Johnson.