Thatcher treatment of Lord Heseltine 'unforgivable'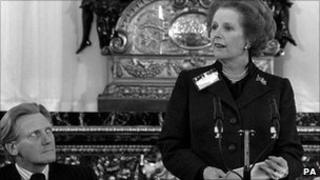 The daughter of Michael Heseltine has said she will never forgive Baroness Thatcher for scuppering her father's leadership ambitions.
Annabel Heseltine revealed the former Tory leader made it a condition of her resignation in 1990 that her cabinet would not support Lord Heseltine.
In a new interview she told the BBC: "She pushed them into a corner.
"That is not a democracy and I will never forgive her for doing that."
Lord Heseltine challenged Baroness Thatcher for the Conservative leadership in November 1990, after months of poor opinion poll ratings for the Tory government.
Britain was going in to recession amid rows over Europe and the introduction of the community charge, or "poll tax".
Just days before, Lord Howe had resigned as deputy prime minister over Thatcher's refusal to agree to a timetable for British membership of the single European currency.
Second ballot
Baroness Thatcher had expected to win outright against Lord Heseltine in the leadership ballot.
In the first round a candidate needed to win the backing of an absolute majority of MPs and in addition have a margin over their nearest rival of 15% of the total electorate.
Baroness Thatcher won the support of a majority on Tory MPs but her margin of victory was just short of 15% so a second ballot was triggered.
Initially she intended to contest the second ballot but after consulting her cabinet decided to withdraw from the contest. She spoke to her cabinet members one-by-one to ask for their advice.
Annabel Heseltine told Anne McElvoy on the Radio 4 programme Archive on 4 that Baroness Thatcher connived to scupper Lord Heseltine's leadership bid as she met those cabinet colleagues.
She said: "That was very sad for us because I knew what my father wanted and I knew how much he cared passionately about what he was doing and why he was doing it.
"And so it was painful to see him not achieve something that he really wanted.
"The thing that I will never really get over is the way Margaret Thatcher left in the sense that she bound her cabinet.
"She made it a condition that she would only leave the cabinet if they promised not to vote for my father, for Michael Heseltine, and to me that was so conniving to do something like that.
"She pushed them into a corner. That is not a democracy and I will never forgive her for doing that."
John Major went on to win the final ballot and become the new Tory leader and prime minister ending Baroness Thatcher's eleven and a half years in Downing Street - the longest period enjoyed by any prime minister in the 20th century.
In June 1993 any lingering leadership ambitions for Lord Heseltine were finished off when he suffered a serious heart attack while in Venice. He stood down as an MP in 2001.
Archive on 4: Political Patriarchs is broadcast on Saturday 4 December at 2000 GMT or listen again on the BBC iPlayer.