Clegg defends Liberal Democrats' role in coalition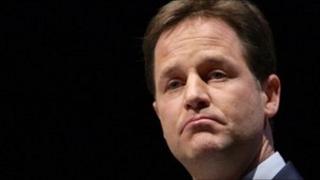 Nick Clegg has defended the Liberal Democrats' role in coalition government as his party remains under fire over controversial education proposals.
He told the Independent on Sunday that he had no regrets about forming a government with the Conservatives.
He said: "I'm absolutely convinced that almost any other course of action would have been a disaster for the country."
MPs vote this Thursday on university tuition fees. The Lib Dems had opposed higher fees before entering government.
The party has been the focus of some of the protests in recent weeks involving tens of thousands of students opposed to the coalition government's proposals.
Despite the current difficulties facing his party, Mr Clegg believes their participation in government will lead to an increased electoral share in the long term.
"I predict that with a bit of luck, with a bit of steel, with a bit of resilience, with a kind of discipline, we won't just recover but we will, I hope, reap the credit."
The coalition agreement, and its concessions to the Conservatives, pinpointed the "bumps, glitches and dilemmas" that lay ahead for the Lib Dems, Mr Clegg told the Independent on Sunday.
But the deputy prime minister added: "If there's one thing I'm not going to apologise for as the leader of the Liberal Democrats in government, after 60 or 70 years of being out of government, it's that you just cannot avoid but deal with the world the way it is."
The Lib Dem leader insisted the party would maintain a separate identity from its coalition partners.
"I don't think what the country wants is for us to become best mates."
But, he said, sharing power was having a "transformative effect" on both parties.
"I really do think it is quite a liberal government and has got a very strong liberal flavour," he said.
MPs vote on Thursday on plans to allow English universities to charge £6,000 a year - almost double the current £3,290 cap - and up to £9,000 under certain conditions.