MP's Russian aide spy suspect to fight deportation bid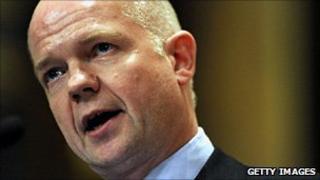 An MP's aide arrested over suspicions she has been spying for Russia says she will fight her deportation and feels sure she will win.
Katia Zatuliveter, 25, a Russian working for MP Mike Hancock, made her first comments in an e-mail to Pavel Fedenko of the BBC Russian Service.
It was sent from the immigration centre where she has been held since Thursday.
Foreign Secretary William Hague said the government was "vigilant" about the risk of foreign spies in Whitehall.
Mr Hague said he could not comment on that case, but there was nothing wrong with MPs employing foreign-born staff - many of whom did "outstanding" work.
In the e-mail, Ms Zatuliveter said: "I was arrested on Thursday at 7am and was told I would be deported. Nobody explained me why and this is my main concern.
'Outstanding service'
"I was not told about the arrangement of the flight. I am in the process of appealing against the deportation and absolutely sure I will win it (if there is justice)."
The Home Office has not confirmed whether there are plans to deport her.
The Sunday Times reported she had been taken into custody on the orders of MI5 and said a security source had told them her presence was not "conducive to national security".
Mr Hague told BBC Radio 4's World at One programme it would be "quite wrong" to comment on the details of the case in question
But he added: "There's nothing wrong in itself with employing foreign-born people sometimes in the House of Commons or in the work of government, some of them do very outstanding work, give great outstanding service to this country.
"But of course we have to be vigilant for individuals where there may be something else involved. We are vigilant, I think the fact that we are attending to a case like this shows that where we have concerns we do take action and I think that is the right way to approach it."
Labour MP Chris Bryant said the government would have to "make clear exactly what has happened" at some point this week and said Parliament should review its vetting processes.
Anyone trying to gather intelligence "would be fascinated to know some of the gossip and tittle tattle that goes around Westminster, like which MP is having an affair, which MP has got financial problems because they might be somebody who might be susceptible either to blackmail or to being buttered up. And you might also be interested in seeing some of the papers that go across the desk of somebody on the defence select committee".
He added: "There are some questions to be answered in relation to the security of the House of Commons. There are much bigger questions to be answered in relation to how Russia operates in the United Kingdom and whether they really are a friendly nation towards us."
Ms Zatuliveter was first stopped in the summer and had been interviewed by police four or five times since.
She started working as an assistant to Mr Hancock, a Liberal Democrat, in 2008. She had previously been an intern at the Commons and had worked in Europe.
Mr Hancock said he had "no reason to believe she did anything but act honourably during the time she was working for me" and she was "determined to fight her corner".
The MP, who sits on the House of Commons Defence Select Committee, said Miss Zatuliveter was not involved in any sensitive work.
The latest allegations come after 10 Russian agents, including Anna Chapman who had dual Russian-UK citizenship, were expelled from the US in July.