Eurosceptics attack plans for referendum on EU treaties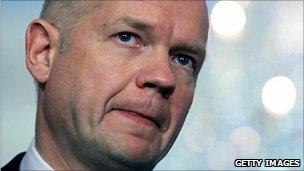 Plans to ensure big EU treaty changes are subject to a UK referendum passed their first Commons hurdle, despite opposition from Eurosceptic Tory MPs.
Foreign Secretary William Hague said the EU Bill marked a "fundamental shift of power" to Parliament and UK voters.
But it was heavily criticised by some Tory MPs who said the "mouse of a bill" did not go far enough.
Labour's Yvette Cooper said Mr Hague was "pandering" to Tory Eurosceptics but in fact was just "winding them up".
Plans in the European Union Bill - which was given a second reading without a vote on Tuesday - would ensure "significant" EU treaties must be approved by a referendum of UK voters - as would major changes to existing treaties.
But ministers can rule out a referendum if they judge that the transfer of power to Brussels is "not significant" - they would have two months from any change to decide - their decision would be open to challenge via a judicial review.
Opening the debate on Tuesday Mr Hague said the bill was "the most important and radical change to how EU decisions are made in this country since we joined what was then called the European Economic Community".
"It marks a fundamental shift of power outwards from ministers to Parliament and the voters themselves on the most important decisions of all: who gets to decide what."
But veteran Conservative Eurosceptic MP Bill Cash - chairman of the cross-party European Scrutiny Committee which has criticised the government for not giving it enough time to scrutinise the bill - said: "The European Union claims sovereignty over our democratic Parliament and this mouse of a bill does nothing to preserve it."
He said it would be up to the "baleful influence of a minister's decision as to whether a referendum would be required or not".
Fellow Conservative MP John Redwood said it was a "show" bill, and another Conservative, Richard Drax, criticised the bill as "toothless legislation which gives the impression of protecting our sovereignty while doing nothing of the sort" while Tory Douglas Carswell said it amounted to "legislative PR".
Mr Hague told them there was "no scope" for ministers to say a decision to join the Euro, to "subscribe to the European army" or "to give up our vote on foreign policy" did not require a referendum.
For Labour, Shadow Foreign Secretary Yvette Cooper said the bill would be a "lawyers' paradise" and suggested Mr Hague was promising his backbenchers "red meat" but was "offering them an omelette instead".
She said: "Instead of serious debate about the future of Europe, he is pandering to the eurosceptics and it is the worst kind of pandering at all because it won't even work. All it is doing is winding them up."
But Lib Dem president Tim Farron said his party was "unashamedly" pro-Europe and the bill was a sensible compromise by the coalition which would deal with the "uncertainties and concerns" of Conservative MPs about the relationship with Europe.
The government says it has no plans to transfer sovereignty or powers to the EU in this parliament, as part of the coalition agreement between the Conservatives and Liberal Democrats.
The government has already made clear there will not be a referendum on treaty changes suggested by the German Chancellor Angela Merkel, to establish a permanent mechanism to protect the euro, because the UK says that would only affect countries which use the single currency.
That will, instead, be subject to an Act of Parliament.