Government to pledge help for service families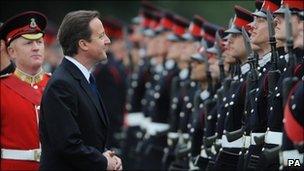 The government is due to unveil a range of measures to support the armed forces and their families.
There will be £10m of extra funding for schools teaching the children of service personnel and the promise of help to obtain mortgages.
Councils and businesses will be urged to offer free services and there will be new awards to recognise work done by personnel in the wider community.
The measures will be announced as MPs debate the Armed Forces Bill.
The proposed legislation will oblige the government to report to Parliament each year on the state of the military covenant - the "deal" between the country and its armed forces.
The government commissioned a report in July into the military covenant to ask what more society could do to support the armed services.
The report by Professor Hew Strachan found that many service families struggled to get a mortgage because they moved so often.
As a result the Treasury will hold talks with the banks to see if credit rules can be relaxed.
From next April, schools teaching some 36,000 service children will receive total additional funding of about £10m.
BBC deputy political editor James Landale says the aim is to give more support to pupils who move many times and whose parents are often away.
Related Internet Links
The BBC is not responsible for the content of external sites.