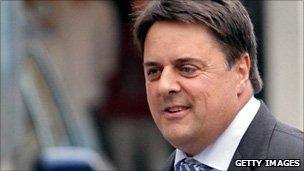 The British National Party's annual conference has opened. Leaflets promise a spectacular event but internal rows and financial pressures have raised questions about its future.
All is not well at the BNP.
Rebels have tried to unseat the leader Nick Griffin. Legal challenges have come thick and fast. Money has become tight.
Only last year the party had high hopes.
It boasted two newly elected MEPs and leading politicians were publicly anxious it might break through at the general election.
But come election day the BNP won no seats, despite increasing its national share of the vote, and saw many of its councillors ousted in local polls.
Simon Bennett, who used to run the BNP website, said the party was in disarray. He is one of a number of expelled former members who want Nick Griffin to go.
"When I first got involved with the party I just automatically assumed I was dealing with professionals, people who knew what they were doing," said Mr Bennett.
"It took a year for me to realise I was working with complete morons."
He left after a bizarre pre-election stunt that saw a jar of Marmite prominently displayed on a BNP video.
The owners of the yeast spread took legal action in which Mr Bennett said he was named. He left. And the BNP had to pay an out-of-court settlement.
That was not the only legal drama to put pressure on the BNP's bank account.
It has spent tens of thousands of pounds responding to a challenge by the Equalities and Human Rights Commission that wanted the party to change its constitution.
Nick Griffin said his party had debts of around £250,000 and "very little money" in the bank.
But he believed the problem would be resolved in the coming months, and was dismissive of Mr Bennett's criticisms.
He said: "It's the oldest problem in the book that any employer or organisation who gets rid of someone for a very, very good and unavoidable reason then has to put up with them coming back and biting their backs to try and get revenge."
Others - with less confidence - have been plotting a rebellion. The former party candidate and former National Front member - Eddy Butler - tried and failed to depose the BNP leader earlier this year.
He did not manage to secure the 800 signatures from party members necessary under the BNP constitution to spark a vote. But he maintains a website featuring videos of estranged party members.
According to him the BNP's internal culture was cynical, grasping and jealous. He is appealing, having been expelled from the party.
The party leader attempted to rally those who had kept the faith on the opening night of the conference.
"To those who wish us gone I say 'we're not going away, you know, we're here to stay'.
"We're here to stay simply because there are too many injustices done to the people of our country for us to turn our backs and walk away, because we've had so much thrown at us and we'd have an easier life if we walked away.
"Yes we would have an easier life, but we're not here for an easy life, we're here to do what's right by our people."
Mr Griffin's personal fortunes will be tested again when he stands as a candidate at the Oldham East and Saddleworth by-election.
He plans to step aside as party leader in 2013. His critics among those on the far right fear for the BNP's future. But those who study the far right say even if it falters, its activists may go on.
Dr Matthew Goodwin from Nottingham University suggested some of its supporters could simply migrate to organisations with similar sympathies.
He said: "If the BNP does descend into infighting and doesn't make an election breakthrough we may begin to see BNP activists in far greater number move over to the English Defence League after coming to the conclusion that there will be no breakthrough."
Related Internet Links
The BBC is not responsible for the content of external sites.