Labour to launch review of defence procurement policy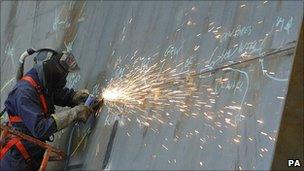 Labour is to review its defence procurement policy, admitting that it "made mistakes" on military spending while it was in government.
The review is part of a wider rethink on security policy overseen by Shadow Defence Secretary Jim Murphy.
The coalition accused Labour of leaving it with a "toxic" legacy on defence and a £38bn overspend on procurement.
Mr Murphy said this was wrong but it should look at ways of buying equipment quicker and more efficiently.
BBC political correspondent Carole Walker said this would be the first detailed review to get under way since Labour leader Ed Miliband announced a rethink of all Labour's policies last month following its election defeat.
The party says it will involve leading military, defence and business figures - including former Security Minister Lord West and former Nato Secretary General Lord Robertson - also a former Labour minister - in what would be an "open and consultative" process.
Mr Murphy said Labour's record on defence issues while in government had been "strong" but it would be wrong to suggest there had not been problems with high-profile procurement programmes.
"We have to be big enough to acknowledge mistakes were made," Mr Murphy, appointed to the post in October, said.
"We are determined to learn lessons from mistakes and make changes for the future. Our priority in this review will be to find ways to speed up and reduce costs of delivery."
The coalition has accused Labour of letting Ministry of Defence (MoD) spending get out of control.
In the run-up to October's Strategic Defence Review, David Cameron likened the MoD's budget to a "train crash", saying "nothing has shocked me more than the complete mess of the defence budget we inherited".
In its latest report, the National Audit Office said the cost of "big ticket" procurement programmes had risen by £3.3bn alone in the year to April 2010.
Of these, it said the cost of the RAF's Typhoon jet programme had spiralled by £2.7bn, the budget for two new aircraft carriers had risen by £767m and reducing orders for the Nimrod reconnaissance aircraft - since scrapped by the coalition government - had resulted in the cost per plane actually rising.
The watchdog said 15 confirmed procurement projects were £8.78bn over budget. Earlier in the year the Public Accounts Committee suggested the total overspend on procurement could be as high as £36bn.
Labour has denied there was such a "black hole", saying assessments were based on the incorrect assumption that there would be no rise in the defence budget under a future Labour government until 2021. It said 2009 research suggested an overspend of £6bn.
Labour has claimed the coalition - which is cutting defence spending by an average of 7.9% over the next four years - has a £4.3bn gap in its own defence calculations.
Shadow ministers have criticised the government's decision to axe the Harrier jump jets and cut 17,000 armed services personnel - decisions which ministers say are necessary to create a flexible and sustainable force capability.
As part of its defence review, Labour is also considering the future of the armed forces, future military threats, the future of the military covenant and the UK's involvement in international defence institutions.