Local people to be given right 'to take over buildings'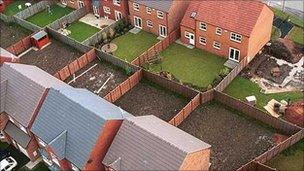 Local people will be given the right to buy significant public buildings, under proposed new legislation.
The Localism Bill - due to be published on Monday - will also allow people to take over some local services.
The government has denied it hopes volunteers would provide services.
Communities Secretary, Eric Pickles said: "For too long people have been powerless to intervene as vital community resources disappear from their areas."
The bill is part of the government's "Big Society" agenda.
Local people and organisations will have the right to buy significant public buildings. If a council decides to sell a property community organisations will get extra time to develop their bid.
Communities can question how services - such as children's centres, care homes and transport - are being run and potentially take them over.
More power for local people to overrule planning decisions, decide where new homes should go and protect green spaces.
Mr Pickles said: "This powerful series of measures puts new rights in law for people to protect, improve and even run important front-line services.
"The Community Rights measures will put control back where it belongs - with the people at the heart of our villages, towns and cities.
"The Rights are also a massive opportunity for the community and voluntary sector to demonstrate their innovation and the new ideas they can bring to the table for better, cost-effective services."
The National Council for Voluntary Organisations welcomed the bill and Chief Executive Sir Stuart Etherington said: "Community assets, both buildings and land, can play a key role in strengthening communities, as a focus for community life and a resource to support local enterprise."
But he warned: "The goal should not be simply transferring assets out of the public sector for the sake of it, and the success of the new community rights will hinge on close partnership working between councils and local people.
"The transfer of assets is also not without risk - to the asset itself or the organisation taking it on - so the implementation will need to be adequately resourced and sensitive to issues on the ground."
Shadow Minister for Communities, Chris Williamson, claimed the changes to planning would make it harder to provide the extra houses needed in Britain.
The MP for Derby North said: "The Localism Bill is simply a Nimbys' charter. It will allow Tory politicians to ditch plans for the new homes we actually need.
"The Labour government didn't always meet our housing targets, but we had a system which attempted to address the future demand for housing. At least is was open, fair and protected the green belt."