Simon Hughes urges unhappy Lib Dems: Stay with us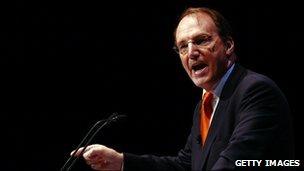 Deputy leader Simon Hughes has issued a plea to Lib Dems to "stay with us" in the wake of the tuition fees row.
Amid falling polls and with Labour wooing Lib Dems Mr Hughes told the BBC: "Progressives are needed more now than ever in the history of the party."
Earlier ministers dismissed talk of a challenge to Nick Clegg, and defended the coalition.
Chris Huhne said a period of "immense unpopularity" was inevitable, but they would emerge stronger for it.
The Energy Secretary told BBC One's Politics Show: "It's human nature to say yes, we have to tackle the deficit but no, we don't like any of the individual things that the people are doing to tackle the deficit.
"We are going to go through a period of immense unpopularity... but we will come out of it. We will be stronger at the next election and people will see that we've done the right thing."
Chief Secretary to the Treasury Danny Alexander told The Andrew Marr Show that although a number of Lib Dem MPs were unhappy with the tuition fees rise, they were not unhappy with the coalition as a whole.
He said it was bringing in key Lib Dem policies such as a referendum on the voting system and taking poorer people out of tax.
Mr Alexander dismissed speculation over a leadership challenge to Lib Dem leader Nick Clegg: "I just think there's nothing in these stories at all... Nick Clegg's leadership has been strong and purposeful, and it's taken the Lib Dems into government.
"This coalition is rock solid. There is a real sense of purpose about this coalition, it is going to last over the five years because we have a very strong and radical programme of policies to deliver.
"There were a number of Lib Dems unhappy about the fees issue but actually on the coalition itself the party is united."
But Mr Hughes, who was meeting senior members of his Bermondsey and Old Southwark Lib Dem party on Sunday to try to persuade them not to resign, said the party's presentation had to be better.
He said they had to make sure the coalition was the greenest ever government and had "distinctive and radical" Lib Dem policies on issues such as civil liberties.
And with Labour's John Denham having earlier reached out to unhappy Lib Dems, Mr Hughes said: "My plea to people in the party and outside - who might be concerned at the moment as to where we are going - is 'stay with us' because progressives are needed more now than ever in history of the party."
Former Conservative Prime Minister Sir John Major also dismissed talk that the coalition was under threat because of unhappiness amongst both Conservative and Lib Dem MPs.
Sir John told The Andrew Marr Show that there might be difficulties at the moment but people had to "hold their courage", and things would come right.
He said that the Lib Dems would share the credit from voters ahead of the next election for the work the coalition had done in sorting out the economic situation.
Sir John also dismissed the idea of a merger between the Conservatives and Lib Dems, although he repeated his belief that the coalition could continue through an election.
And he said shadow business secretary John Denham's comments earlier on the programme - when he said they would "reach out" to unhappy Lib Dems - made "my blood boil".
He said the Conservatives and Lib Dems had come together in the national interest and said this was not a time "to be playing party games".
Related Internet Links
The BBC is not responsible for the content of external sites.