Tuition fees 'stoke Tory hostility towards coalition'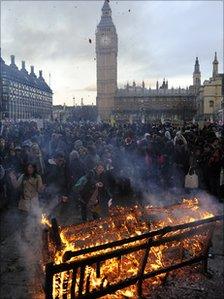 A senior Conservative backbencher has warned that the tuition fees row has stoked "widespread" disaffection in the party about the coalition leadership.
Former shadow home secretary David Davis said many of his colleagues thought Liberal Democrat MPs were allowed to do what they liked.
Meanwhile, he said, Tory MPs were being told "Right, you don't vote for this, your career is over".
He said the "sheer degree of hostility" among Tory MPs had been surprising.
Speaking on Pienaar's Politics on BBC 5 Live , the MP for Haltemprice and Howden said he had been shocked by the reaction as the coalition struggled to push through rises in university tuition fees in England.
"What was surprising was the sheer degree of hostility really to the general coalition leadership in its widest sense from a lot of my colleagues," he said.
"Some of them mulling over whether they should vote in order to defeat the government, one or two of them, I think, not just to make a point."
On Thursday, the government survived a revolt by Liberal Democrat and Conservative MPs over its plans to increase university tuition fees.
Twenty-one Lib Dem MPs rebelled, along with six Conservatives, including Mr Davis.
But Mr Davis said the anger was "multi-cause" and not limited to tuition fees.
"It was wider than that, all sorts of things ranging from tuition fees through a feeling that they have been taken for granted," he said. "A feeling that the Liberal Democrats are allowed to say what they like and do what they like.
"All the Liberal Democrats are being cosseted while they decide whether to abstain or to vote against or vote for, while the Tories are being told, 'right, you don't vote for this, your career is over', or 'you vote for this, you have got to resign as a PPS (parliamentary private secretary)'.
"It seemed to be pretty widespread and it seemed to be really quite uncomfortable... it's everything from tuition fees at one end, through to things like expenses."
Mr Davis was defeated by Mr Cameron for the Conservatives' top job in 2005, and three years later shocked many by quitting the shadow cabinet to campaign on civil liberties issues.