MPs critical of Ministry of Defence overspend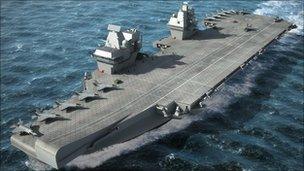 Ministry of Defence staff allowed a "dangerous culture of optimism" to grow, helping to create a £36bn gap in spending plans, MPs have said.
The Commons Public Accounts Committee said there had not been a "realistic assessment of the resources available" when Labour was in power.
A £5.2bn contract to build two aircraft carriers was cited as an example.
The Tories have called Labour's defence spending a "mess", while Labour has acknowledged "mistakes" were made.
The committee has previously suggested the total overspend on procurement under could be as high as £36bn.
Prime Minister David Cameron has blamed the previous government for leaving the £42bn-a-year defence budget in a "complete mess", forcing the coalition to make drastic cuts to balance the books.
In its latest report, the cross-party committee of MPs said there had been a failure to match future plans to a "realistic assessment of the resources available".
It was "astonishing" that the department did not have a proper financial strategy that linked funding to its priorities, and when savings had to be made they were often "ad hoc" and actually increased costs in the longer term.
It also criticised the MoD's accounting officer, who between 2005 and this autumn was permanent secretary Sir Bill Jeffrey.
The committee said: "The accounting officer has not discharged his responsibility to ensure that planned and committed expenditure across the defence budget represents value for money.
"For example, in 2008 the department signed a contract to buy new aircraft carriers which was unaffordable, without having identified compensating savings.
"Because these savings were not subsequently found, it was necessary within a year to delay the project, resulting in an enormous cost increase and poor value for money."
Under the Labour administration, the MoD agreed a contract for two aircraft carriers.
In its recent defence review, the coalition government said it would like to have cancelled the project, but, under the terms of the contract, this would have taken the cost from £5.2bn to £5.5bn and meant the closure of three shipyards with the loss of more than 5,000 jobs.
The committee concluded: "The department's senior officials did not seek ministerial directions to proceed when they had major concerns about decisions threatening the value for money of defence spending."
It added: "The consistent pattern of planned overspend demonstrates serious organisational failings and a dangerous culture of optimism."
The committee's chairman, Labour MP Margaret Hodge, said: "The MoD's poor financial management has led to a potential shortfall of spending against funding over the next decade of £36bn.
"It is astonishing that the department has hitherto failed to develop a proper long-term financial strategy linking its funding to its core priorities and providing a clear basis for making cuts.
"Instead, it has managed to stay within budget each year by making short-term and ad hoc in-year decisions to cut programmes and defer the acquisition of kit. These have led to inefficiency and even greater costs in the longer term.
"This situation must change without delay. We welcome the MoD's appointment of a professionally qualified finance director and expect the department to give him the powers he needs to do the job."
Labour announced at the weekend that it is to review its defence procurement policy, admitting it "made mistakes" on military spending while in government.
The coalition accused Labour of leaving it with a "toxic" legacy on defence and a £38bn overspend on procurement.
Shadow defence secretary Jim Murphy said this was inaccurate, but added that the party should look at ways of buying equipment quicker and more efficiently.