Actor Colin Firth ends support for Lib Dems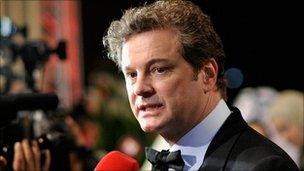 Actor Colin Firth has reportedly withdrawn his backing for the Lib Dems, calling the party's U-turn on tuition fees "profoundly disillusioning".
The star of Pride and Prejudice and Bridget Jones's Diary appeared with Nick Clegg in an election broadcast.
But he is reported to have said at a film festival in Dubai that the Lib Dem leadership's backing for a fees rise made it "difficult" to continue.
However, he backed the decision to form a coalition with the Conservatives.
Before the election, Lib Dem MPs signed a National Union of Students pledge to oppose any increase in tuition fees.
However, the party's ministers voted last week to increase the maximum annual level for undergraduates in England from £3,290 to £9,000.
Twenty-one out of 57 Lib Dem MPs rebelled against the government on the issue last week, while thousands of people took place in a demonstration at Westminster.
Mr Firth, attending a film festival in Dubai, told the Guardian newspaper that the party's policy switches since signing the coalition agreement with the Conservatives meant his "compass [had] not stopped spinning".
He said: "I think it is profoundly disillusioning if you are a student who registered to vote simply because of what the Liberal Democrats were promising, and many, many did and simply because of what the Liberal Democrats had to say about tuition fees and things. It is one of the reasons I went in that direction [withdrawing support]."
But he added of party leader, and Deputy Prime Minister, Nick Clegg: "I do believe he did what he thought was the only choice at that time given the parliamentary situation and it being impossible to do a deal with Labour."
Mr Firth, who has also starred in Mamma Mia and Fever Pitch, said the decision on university funding had "made it difficult for us who thought progressive politics would be the way forward".
The comments come as the House of Lords is preparing to debate the fees increase, followed by a vote.