David Cameron urges MP expenses system reform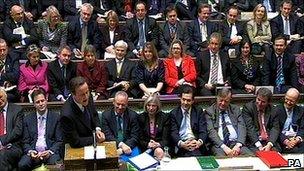 Prime Minister David Cameron has told his fellow Conservative MPs that the parliamentary expenses system is "not acceptable" and must change.
The Independent Parliamentary Standards Authority (IPSA) was "anti-family" and was causing a "lot of pain and difficulty", he said.
Mr Cameron told a meeting of the 1922 committee of Tory MPs he wanted a better system in place by next April.
IPSA was set up in the wake of last year's Commons expenses scandal.
Explaining Mr Cameron's comments after the meeting, aides said he was highlighting issues such as MPs not being able to use expenses to transport their children to and from the constituency.
The prime minister's words followed complaints from many Tory backbenchers that the reformed expenses system is preventing them from doing their jobs properly.
But an IPSA spokesman said: "IPSA brought an end to the discredited system of the last parliament.
"We introduced independent regulation, ending centuries of self regulation by MPs and the House.
"We introduced clear new rules and independent verification of each claim made by an MP and we will proactively publish all of these claims."