Community Care Grant criticised in MPs' report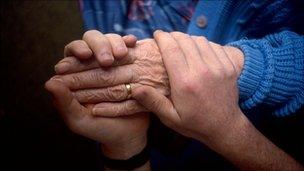 Some of the poorest and most vulnerable people in the UK are being failed by the inefficient distribution of a grant aimed at helping them, MPs have said.
The public accounts committee said the government must tackle problems with the Community Care Grant.
It said the £141m fund, which pays for essential items such as beds and cookers, was not applied evenly and incurred "unacceptably high" costs.
The government said it would make "much-needed changes".
The committee found that the grant created a £19m annual administration cost.
Official decision-making was "unsatisfactory", while the risk of fraud and error was further increased by a lack of basic checks, the MPs said.
The committee also found that awareness of the scheme was "patchy", with uneven distribution of funds across the country and low levels of uptake among pensioners and ethnic minorities.
Chairman Margaret Hodge said: "The Community Care Grant plays a vital role in the lives of the poorest people in helping them get the essentials they need at times of crisis.
"It is not working as it should. Tight funding in future will make it all the more important to ensure that the scheme operates fairly and reaches as many of the people in the greatest need as possible. That's not happening at the moment.
She added that the government did not "know whether grants are going to those most in need and doesn't check that the grant is spent as intended.
"There is a postcode lottery and whether an applicant is awarded a grant partly depends on where he or she lives."
A Department for Work and Pensions spokesman said: "We're clear that the system of Community Care Grants and the Social Fund are in need of reform and the time is right to make much-needed changes.
"We take our duty to administer the Social Fund extremely seriously and will localise elements of it to ensure the support goes to those who need it most."
Related Internet Links
The BBC is not responsible for the content of external sites.