Court closures may impede 'easy access to justice'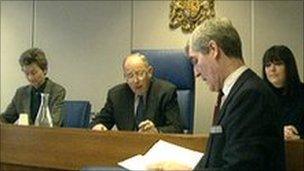 Closing 93 magistrates' courts could have a "serious impact" on access to justice, it has been claimed, amid a growing row over the plans.
Communities across England and Wales were "angry" at the plans announced earlier this week, the chairman of the Magistrates Association told the BBC.
John Thornhill urged ministers to "take stock" and review claimed savings.
Justice Secretary Ken Clarke has said there was support for closing down "out-of-date, under-used" courts.
There are some 300 magistrates' courts, which deal with most minor crimes, crown court committal hearings and licensing applications.
Ministers say the changes to the court system - which will also see 49 county courts closed - will save at least £60m over four years and produce a "more efficient and more modern" system of justice.
Initial plans would have seen 103 magistrates' courts closed but courts at Abergavenny, Harlow, Kettering, Newbury, Newton Abbott, Skipton, Spalding, Stroud, Waltham Forest and Worksop are to be reprieved following a consultation.
Mr Thornhill said he recognised that courts could not be immune from public spending cuts and that magistrates were already "working on merging benches".
But he said the scale of the closure programme was "disappointing" and it was not just magistrates, but whole communities, which were "upset" about the prospect of seeing local courts disappear.
"We need to take time and take stock and look at the figures, and the arguments and the reasons why the government has decided to close individual courts," he told Radio Four's Today.
"Ten courts have been saved from closure but it may be that others have a valid case."
The principle of community justice was long-established, he added, and should not be sacrificed without good reason.
"It is right that the links that many magistrate courts have developed with their local communities - the support networks available to those courts - should remain within those communities," he added.
"We are concerned some of these closures could have a serious impact on easy access to justice - that is not just for the offender but for the victim, the witness and the local communities. It has to be down to each local community to make those decisions on what is appropriate for its particular area."
Critics of the plans have questioned how much the move will save and figures about how often courts earmarked for closure are used.
Defending the proposals on Wednesday, Mr Clarke told the Justice Select Committee that ministers had "taken into account" local views - including how far victims would have to travel to get to court - as part of its consultation.
Referring to court closures in Wales, he said: "I understand there is anger in some sections of the population but actually opinion was divided. In some of the Welsh courts we got positive support for closing down what were old-fashioned, out of date and under-used courts."
Mr Clarke said most people would still be within a hour's travelling time of a court following the changes but admitted this may not be the case in parts of Wales and Northumberland.
He added: "In each case, what you have to do is weigh up a whole lot of factors before coming to a balanced view about how best to provide a modern, efficient court system."
It is estimated that the closure programme will save the government at least £15m a year in running costs, plus an extra £22m in maintaining the buildings. However, there will be about £20m in one-off costs incurred in closing the premises.
There are almost 29,000 magistrates in England and Wales, volunteers drawn from the community who deal with nine out of 10 cases. Most cases are heard by three magistrates who only receive expenses and allowances to cover loss of earnings.
Related Internet Links
The BBC is not responsible for the content of external sites.