Axing provocation defence 'not sensible' - Lord Judge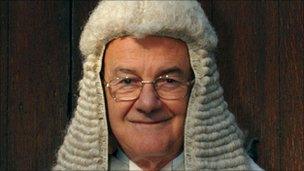 New laws aimed at protecting female victims of domestic violence have come under fire from the Lord Chief Justice of England and Wales.
Lord Judge said scrapping provocation as a defence in murder trials and replacing it with the defence of loss of self control was not "sensible".
He told the Lords Constitution committee it was overly complex and suggested it could cause confusion.
The changes were included in the Coroners and Justice Act 2009.
They were hailed by then women's minister Harriet Harman as ending the injustice of female victims of domestic abuse being jailed for murder when they killed their husbands, allowing them the possibility of having the sentence reduced to manslaughter.
They have also been backed by the coalition, which enacted them in October, saying they would bring about "more just" outcomes.
Under the old provocation defence loss of control had to be sudden and temporary, but the new law allows for a "slow burn" reaction.
There are also a series of "qualifying triggers" including whether the defendant feared serious violence from the victim.
If they can prove they were motivated by "words and conduct" which left them "seriously wronged", then they can also avoid a murder conviction.
But the changes also remove the "crime of passion" defence, which is sometimes used when a husband or wife kills their spouse in the heat of the moment after learning they have been unfaithful.
Lord Judge said the courts were never "at their best" when dealing with the issue of provocation and the fact that the new law required "five typed pages" of directions for the judge to give to juries made it unworkable.
"The hypothetical case is the wife comes home and she finds that her husband is upstairs with not very many clothes on and in the same room with him is a young lady with not very many clothes on.
"The judge has solemnly to direct the jury that they are to ignore that situation as a trigger to his possible loss of self-control.
"But if when she taxes the husband, as she is entitled to, and he uses some foul language to her and says it's all her fault because she is frigid and says something rather unpleasant to her.
"Well then the jury can be told that they can take into account language used by the husband as possible triggers justifying the loss of self control.
"I don't think this is a sensible way for us to proceed."
Lord Judge said the number of criminal justice laws had increased "hugely" in recent years with six separate pieces of legislation now on the statute book.
"Then you wonder why the court system takes so much longer than in the happy days when criminal justice legislation came once every five years," he told the committee.
It was a particular problem in the area of sexual offences, Lord Judge suggested, citing new legislation which came into force in 2003.
He told the committee: "There is a guideline for judges passing sentence on those rather odd people who have sexual intercourse with a corpse.
"There is a different possible approach depending on whether it is more than once, with the same corpse or a different corpse.
"This is not, I would have thought, what the criminal justice system should be addressing."