Oldham East braces for Christmas by-election onslaught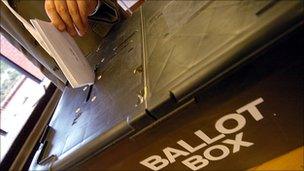 So, as well as the postie knocking on the door looking for his Christmas box over the coming days, the voters of Oldham East and Saddleworth will also have to contend with politicians ringing the bell and looking for votes.
With the moving of the writ in the Commons on Thursday, the starting pistol has been fired on the first by-election of the new parliament.
The poll on 13 January will be the first big electoral test of the coalition, as well as an early verdict on Labour's new leader.
But traditional by-election it will not be.
That decision by the special election court to strip the seat from Labour and ban Phil Woolas from standing for three years has given pause for thought to many campaigners.
Politicians up and down the land have fought hard and sometimes dirty campaigns to get themselves elected, never dreaming that their election literature might have to stand the scrutiny of a court.
That court found that Mr Woolas, the Labour victor by a margin of 103 votes at the General Election, had lied in his attacks on his Lib Dem opponent, Elwyn Watkins.
And it was absolutely clear from Nick Clegg's words on Thursday that the former Labour MP will be the focus of the Lib Dems' campaign.
But the problem for Mr Clegg is that while he might want to talk about local lies, his Labour opponents will almost certainly want to accuse him of telling national ones.
Labour have already said that tuition fees will be a big part of their campaign, along with police numbers and the rise in VAT to 20%, which comes in on 4 January - just nine days before the poll.
In a clear indication of its importance to Labour, Ed Miliband has made sure he is the first party leader to visit the seat on the very day the writ is moved. It is unlikely to be his only visit.
Failing to hold a Labour seat while in opposition, when the second party is trailing at 9 or 10 % in the polls, would not be a good start to Mr Miliband's new year.
For his part, Nick Clegg will also visit the seat twice, hopeful that he can focus a very short campaign on the events surrounding Phil Woolas.
And David Cameron too plans to head north. The Tory candidate was only a couple of thousand votes behind the other two parties last time around.
Add to all this, the likelihood that Nick Griffin will stand for the BNP, and the contest will undoubtedly be hard fought.
The good people of those pretty little Pennine villages, like Delph and Diggle and Upper Mill, better take down the mistletoe pretty sharpish after Christmas Day.