Leak details £63m in cuts to Commons running costs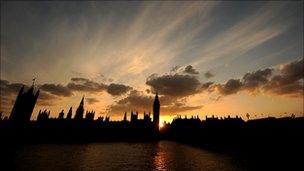 The House of Commons is to axe more than £63m from its budget over the next four years, according to documents seen by the BBC.
The cuts include £2m on the budget for foreign travel for select committee members.
Other savings include £56,000 on newspapers and £140,000 a year on cutting the number of postal collections.
And there are plans to bring in much more cash from souvenir sales.
The Commons Management Board hopes to raise an extra £400,000 a year through online and high street sales of House of Commons mementos.
It will also start charging for tours of the famous clock tower to raise a projected £82,000 a year.
The cost of food and drink for MPs and Commons staff will also go up.
The Commons has previously announced a belt-tightening programme - but the leaked document reveals full details of where the axe will fall.
It shows the Commons authorities are expecting big savings from cuts to printing costs, public information projects, the Parliament website, Hansard and the Commons library. Building repair and cleaning budgets will also be cut.
But the Department of Chamber and Committee Services will take the biggest hit, with savings next year of £4.6m next year, rising to £6.5m in 2014 in 2014/15/
The Commons management board has set a budget of £228m for next year and has said it aims to cut 17% from the Commons' running cost in real terms by 2014/15, which it says is broadly in line with the rest of the public sector.
A spokesman said: "The Commission has now concluded that the level of savings demanded by the current financial climate calls for a fundamental review of the services provided by the House."