MoD critic Bernard Gray gets top defence job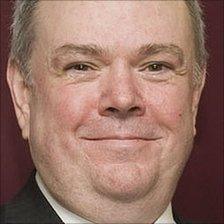 Defence Secretary Liam Fox said Bernard Gray was without question the best man for a "hugely demanding post".
He will replace General Sir Kevin O'Donoghue.
The BBC's Carole Walker said the appointment was intended to show ministers were serious about tackling the MoD's deep-seated problems.
The department is under pressure to overhaul the way it buys defence equipment and tackle a £38bn black hole in its budget.
Mr Gray, whose background is in media, telecommunications and defence in the UK and abroad, will become the most senior civil servant overseeing procurement at the department.
It was Mr Gray who first identified a black hole in the budget last autumn which then stood at £35bn, our correspondent said.
He had been asked by the previous Labour government to review procurement and found the entire programme overheated and unaffordable with projects on average five years behind schedule, she added.
Mr Fox has already set up a review board to monitor the 20 biggest equipment projects.
But he is under pressure to deliver far-reaching changes to the way his department works.
Our correspondent said Mr Fox would be hoping Mr Gray could get a grip on the delays and overruns on numerous contracts and deliver savings of £4bn over the next four years.
In a message to department staff, Mr Gray said: "It is a great privilege to be asked to lead this key component of our defence effort, and to have the opportunity to work with such a dedicated and vital group of people.
"The work we do is extremely important, and that is why I have accepted the invitation to take on this role."
Related Internet Links
The BBC is not responsible for the content of external sites.