Bankers' bonuses: New tax still on the cards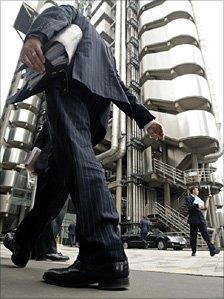 An avalanche of announcements emerged from government on Thursday, from the number of people subject to control orders to cuts to coastguard services and the, perhaps less thrilling, update on possible changes to building regulations.
Next week, before MPs disappear from Westminster for the Christmas break, announcements on high speed rail and perhaps details of the government's reverse on school sports funding will follow.
But could tough action on bankers' bonuses also be announced as a bumper Christmas present for the Lib Dems?
Item one in the coalition agreement promised "robust action to tackle unacceptable bonuses".
And as the banks warm up for bonus season, ministers are grappling with what to do to prevent the spectre of an industry bailed out by the taxpayer gorging itself on cash.
The discussion is happening right now at the top of government. David Cameron, George Osborne, Nick Clegg and the Business Secretary Vince Cable had a "quad" meeting this week to discuss it.
And sources close to the conversations have made it clear that senior ministers believe the banks have to live up to their responsibilities. But what does that mean?
Well it seems the idea of a tax on bankers' bonuses, like the one Labour imposed, is still very much on the cards if the banks are not seen to show restraint.
That is despite the fact that former Chancellor Alistair Darling himself said it should probably be a one-off measure because cunning money men can normally find their way around such measures.
Mr Cable and Mr Osborne, who is less enthusiastic than his Lib Dem counterpart about the idea, have warned the banks of this in the past, and sources suggest it is very much still in play.
And it is still possible that the banks will be required to be more transparent, with the government making them publish more information about who is paid what.
At the end of November it seemed the chancellor had kicked this idea into touch by calling on his European colleagues to co-ordinate the action, questioning whether Britain could introduce this idea on its own.
But senior Lib Dems suggest this, along with a bonus tax, is a very real prospect despite the more cautious approach being taken by the chancellor.
Getting lending going again to small business is also a demand ministers are making.
And for the Lib Dems there is a determination that the recommendations of the commission on banking, to be published later next year, are taken seriously.
Final decisions on all of this are yet to be taken but with the bank bonus round approaching fast, the time is getting near.
After the last couple of bumpy weeks the Liberal Democrats could be looking at a package of tougher rules on banks that could give them a bit of Christmas cheer.