Lib Dem minister Michael Moore defends coalition attack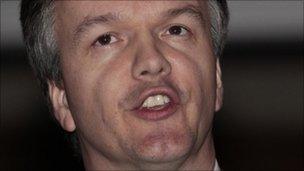 Scottish Secretary Michael Moore has defended his private attack on UK government policies, saying his party was committed to the coalition.
He was one of several Liberal Democrat ministers secretly recorded by Daily Telegraph reporters.
Mr Moore said cutting child benefit for higher-rate taxpayers was not "a fair thing to do", and branding the English tuition fees increase "a train wreck".
The MP told BBC Scotland some decisions "aren't particularly comfortable".
But Mr Moore said it should not come as a surprise that he was promoting Lib Dem policies in government.
In the latest recordings to be made public after Telegraph reporters posed as constituents, Mr Moore said cutting child benefit for higher-rate taxpayers was not "a fair thing to do".
The MP for Berwickshire, Roxburgh and Selkirk also described the increase in tuition fees to a maximum of £9,000 to undercover reporters as "the biggest, ugliest, most horrific thing in all of this... a car crash, a train wreck".
He added: "I signed a pledge that promised not to do this. I've just done the worst crime a politician can commit, the reason most folk distrust us as a breed. I've had to break a pledge and very, very publicly."
Mr Moore also said the coalition between his party and the Tories had "marginalised" the Conservative right wing, who, he said, "hate us with a passion - and I can't say it's unreciprocated".
The Scottish secretary said some Conservative ministers were "on a different planet", and he and Defence Secretary Liam Fox "probably couldn't stay in the same situation for very long" if they were discussing a wide range of policies.
In response to the comments, Mr Moore told the BBC: "We've got a lot of difficult decisions to take in this coalition and we're not ducking them, that's the important point.
"Some of the decisions aren't particularly comfortable but we've got a commitment for two parties to work together for a five-year term to tackle the worst public finances in peace-time history."
The Daily Telegraph also secretly recorded Business Minister Ed Davey and Pensions Minister Steve Webb saying they were unhappy over some government policies, and previously taped Business Secretary Vince Cable saying he had "declared war" on Rupert Murdoch.
Despite the controversy, Mr Moore added: "The Liberal Democrats are in robust, good health and we will continue to ensure that we fight our corner, as this episode, like many others, will reveal."
The MP said he had always been "open and frank" with constituents and the trust of previous meetings had never been breached.
Related Internet Links
The BBC is not responsible for the content of external sites.