Ministers having to learn fast about coalition politics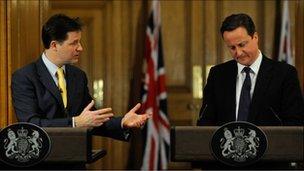 In the splendid gothic lobbies of the Houses of Parliament, all is quiet.
MPs and Lords have decamped for Christmas, swapping division bells for Christmas bells.
But ringing in their ears as they leave Westminster are the latest grumbles of discontent within the coalition.
"We're going to have rough waters and we've got to brace ourselves for it and not be driven off course by every ill-judged remark," Peter Lilley, a senior Conservative who served in Margaret Thatcher's cabinet, said.
Mr Lilley believes the conversations with Liberal Democrat ministers that were secretly recorded by undercover journalists and broadcast by the Daily Telegraph newspaper show the Coalition is still on a steep learning curve.
"The Liberals, and indeed new ministers on the Conservative side who've never been ministers before, have got to learn at a rather more rapid pace than people like me had to do," he said.
"When we were a junior minister no-one took much interest but you learnt a bit on the job, then you were a more senior minister before you ever became a cabinet minister."
Mr Lilley says the prime minister and his deputy were right not to sack Business Secretary Vince Cable over his declaration of war on Rupert Murdoch's News Corporation empire.
Indeed, he wishes the coalition's leaders would hold their nerve more often.
"The leadership has got to be a little more relaxed and a little less disciplined," he said.
"There's a culture that you show your strength by sacking people as soon as there's a brouhaha. Sometimes that's the right thing to do. Sometimes it's best just to brazen it out."
Some senior Liberal Democrats are also relaxed about the apparently ill-judged remarks made by their colleagues about coalition policies and coalition figures.
The former party leader, Lord Steel, believes the open displays of ministerial discontent will reassure sceptical party activists that the Lib Dems are no push over within the coalition.
"I think that Liberal Democrats in the country will be cheered to see that so many of their colleagues in government are fighting their corner. They're standing for the issues that we believe in," Lord Steel said.
"We know we can't get everything our own way because it's a coalition. Neither will the Tories get everything their own way. That's the nature of coalition. We're having to get used to it."
But Julian Astle, the director of the Liberal think-tank Centre Forum, argues the Telegraph disclosures will result in less scope for those within the coalition who want to air differences.
"The Vince Cable approach has been tested, inadvertently to destruction, or in Vince Cable's case, to self-destruction," he said.
"Members of the coalition are going to have to realise that even in the new politics, every time you allow a gap to open up between yourselves and your coalition partners, others will seek to drive a wedge into that gap."
This forced unity could, Mr Lilley suggests, strengthen the chance of both parties fighting on a joint ticket at the next election.
"I can conceive that we might fight as a coalition," he said.
"I think the process of being in government has produced a degree of realism on the part of a lot of the Liberals that will make them better partners in future than they were as prospective partners when this coalition started.
"We might find even people on my wing of the party, which is right-wing Eurosceptic, will say, 'Well, perhaps better to have them in bed with us than fighting us in the election'."
It is a view, however, flatly rejected by others on the right who draw precisely the opposite conclusion.
"I never thought there was anything but a minority of MPs who thought that we could fight as coalitionists, that we could meld the parties into one," the Tory MP Peter Bone said.
"The vast bulk of the Conservative Party want to fight the next election as Conservatives and this has reinforced what people have been thinking and now perhaps more people will be willing to say, if not in public then in private.
"I never thought (a joint ticket) would happen in the first place but I certainly think it's been killed off now."
Yet significantly, David Cameron has not administered a fatal blow to the idea of a joint ticket - evidence surely that for all the squalls and setbacks, he and Nick Clegg are are determined not to let the coalition founder.
Related Internet Links
The BBC is not responsible for the content of external sites.