Vince Cable lashes Telegraph over undercover recordings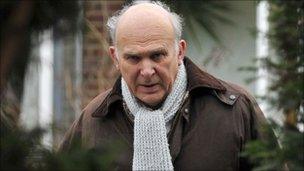 The Daily Telegraph has caused "great damage" to the relationship between MPs and constituents with its undercover sting tactics, Vince Cable says.
The business secretary was stripped of some powers after reporters posing as constituents taped him "declaring war" on Rupert Murdoch.
But The Telegraph said its story was clearly in the public interest.
Mr Cable was one of a string of Lib Dem ministers to be caught out by the newspaper's undercover reporters.
He has not spoken publicly since being slapped down by the prime minister over his unguarded comments, in which he criticised coalition policies and said he had "declared war" on Rupert Murdoch.
But in an interview with The Richmond and Twickenham Times, he said: "I feel quite angry and strongly about this, I've had constituency surgeries now for 13 years every week, that's well over 600.
"Thousands and thousands of constituents have been to see me, often on very difficult and highly confidential issues which have been respected by me and by them.
"Then somebody who isn't a constituent falsifies their name and address and comes in with a hidden microphone - it completely undermines the whole basis on which you operate as a local MP.
"All my colleagues, of all parties, feel very strongly that some great damage has been done by this."
He told the Richmond and Twickenham Times he had prefaced his remarks by saying that "if they want to have a conversation about a political matter as well as a personal matter it is confidential".
He went on: "Obviously one will have to be more guarded, but the problem is you need to give people an honest answer when they ask a question. Again it diminishes our role."
Several senior Lib Dems have now questioned the Telegraph's tactics, which they claim will lead MPs to be far less candid with their constituents.
The Press Complaints Commission says it has now received 22 complaints from members of the public over the secret taping of Lib Dem MPs by the Daily Telegraph.
The commission says that, of those citing the code specifically, all refer to Section 10 which deals with subterfuge. It has not received any complaints from the Lib Dem ministers themselves.
It will now look at the complaints and decide in due course whether there is a case to answer.
A spokesman for the Telegraph Media Group said: "There is a clear public interest in The Daily Telegraph publishing this story.
"The Daily Telegraph takes the Press Complaints Commission code extremely seriously and has always adhered to it."
The revelations have been seized on by Labour as evidence that the coalition is a "sham" but senior Lib Dem and Tory ministers insist such tensions are inevitable when two parties work together in the national interest.
Labour has meanwhile stepped up its efforts to make capital out of the row, with shadow work and pensions secretary Douglas Alexander offering to work together with Lib Dem ministers on a confidential basis to halt proposed cuts in child and housing benefit.
He denied he was simply making mischief and insisted he wanted to "try and turn private complaints into public policy changes".
Asked on the BBC News Channel whether he agreed that the Telegraph's tactics had undermined trust, Mr Alexander said: "It is not for me to condone or justify the editorial decisions a newspaper has reached."
He later apologised and told the BBC he was "embarrassed" by the comments, adding: "Not a question of me trusting the prime minister, of course I do".
Transport Minister Norman Baker and Deputy Leader of the House, David Heath, have also apologised after criticising Chancellor George Osborne and saying they voted in favour of tuition fees even though they opposed the policy.
Related Internet Links
The BBC is not responsible for the content of external sites.