Tory EU allies 'nutty' - Lib Dem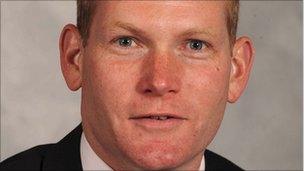 A Liberal Democrat Foreign Office minister has been recorded describing the Tories' European allies as "quite nutty" and "an embarrassment".
Jeremy Browne also told a Daily Telegraph undercover reporter how he believed the Conservatives' immigration policy was "very harsh".
The reporter was posing as a member of Mr Browne's Taunton Deane constituency.
Two Daily Telegraph reporters have secretly taped hours of conversations with Liberal Democrat ministers.
The Conservatives broke away from the main centre-right grouping in the European Parliament last year, to join the European Conservatives and Reformists.
This is a coalition of small nationalist parties, some whom have been accused of anti-Semitism.
William Hague, the foreign secretary, has previously defended the decision to enter into the ECR after David Miliband highlighted the far-Right allegations in a Labour Party conference speech made when he was foreign secretary.
Mr Browne told the reporter: "They are quite nutty and that's an embarrassment to them."
He was also critical of the Tories' approach to immigration, but insisted that the Lib Dems were having a moderating effect on the coalition government's policy.
"The Tories had a very harsh, in my view, immigration policy. That's not to say I think that there shouldn't be, you know, a level of immigration which can't be assimilated in society - I'm not in favour of letting rip and letting everyone in - I think we need to have a proper, functioning policy," he said.
"But the Conservative one I thought was driven by quite a lot of uncharitable instincts. I think with the involvement of the Lib Dems plus the more liberal-minded Tories we'll end up with a policy which is more enlightened."
In recordings released earlier, Lib Dem ministers David Heath and Norman Baker both attacked Chancellor George Osborne.
And Paul Burstow was recorded suggesting David Cameron could not be trusted - which he later denied.
Paul Burstow, who told the two fake constituents "I don't want you to trust David Cameron" told the BBC he is "embarrassed" by the comments.
The care minister said it was "not a question of me trusting the prime minister, of course I do".
Transport minister Norman Baker and Deputy Leader of the House, David Heath, have also apologised for their remarks, a Lib Dem spokesman said.
The two senior Lib Dems told undercover reporters they voted in favour of tuition fees even though they opposed the policy.
Mr Heath also suggested Chancellor George Osborne was out of touch with ordinary people.
Mr Heath told the undercover reporters: "George Osborne has a capacity to get up one's nose, doesn't he?"
And Mr Baker said: "I don't like George Osborne very much."
Local government minister Andrew Stunell told the bogus constituents he did not know where Mr Cameron stood on the "sincerity monitor".
"I don't know where I put him on the sincerity monitor... is he sincere? I do not know how to answer that question."
Business Secretary Vince Cable was stripped of his power to rule on broadcast regulation after he was taped saying he had "declared war" on media tycoon Rupert Murdoch.
But Prime Minister David Cameron has defended his decision not to sack Mr Cable - and other senior Conservatives have sought to play down the Telegraph revelations.
The revelations have been seized on by Labour as evidence that the coalition is a "sham" but senior Lib Dem and Tory ministers insist such tensions are inevitable when two parties work together in the national interest.
Related Internet Links
The BBC is not responsible for the content of external sites.