UK gives £40m to UN disaster fund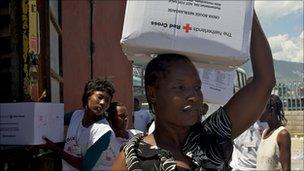 The UK is to put £40m ($62m) into a UN fund set up to respond to natural disasters.
The money will fill two-thirds of the shortfall in the fund in a year when more than 260 million people in the world were hit by natural disasters.
International Development Secretary Andrew Mitchell has also called for a more co-ordinated response to events.
Lord Ashdown will report in the new year on a separate review into the UK's response to natural disasters.
The international response to two large catastrophes in 2010 - the earthquake in Haiti and floods in Pakistan - was slow in coming and poorly co-ordinated.
Mr Mitchell said that a "lack of support" for the UN disaster fund threatened to "undermine its ability to deal with future shocks".
The disaster fund was used to provide aid after several smaller disasters in 2010, such as an outbreak of measles in Lesotho, and lead poisoning in Nigeria.
The move has been announced on the anniversary of the Boxing Day tsunami that hit Asia six years ago.
The permanent emergency response fund set up after the Tsunami is very short of money.
The number of people affected by disasters is predicted to rise from 250 million a year to 375 million by 2015.
Former Liberal Democrat leader Lord Ashdown's review will look at ways to ensure value for money and impact on the ground, and how Department for International Development (DFID) experts could help improve the international system.
It will examine co-ordination with the UN, humanitarian organisations and the private sector to ensure the UK is helping to make efforts more efficient, effective and well-coordinated.
How aid is delivered will be reviewed to ensure the right material and equipment is in the right place at the right time.
It will also investigate how DFID should co-ordinate with other government departments, and ensure the use of new technologies is maximised.
Related Internet Links
The BBC is not responsible for the content of external sites.