Speed camera conviction rates could be published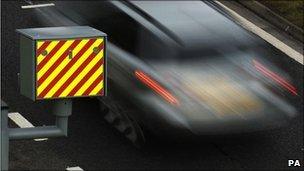 The speed cameras with the highest conviction rates or number of accidents could be revealed by councils and police officers.
The government says its plan is part of efforts to be more transparent about how taxpayers' money is being spent.
About 6,000 cameras have appeared in Britain since being introduced in 1992.
The road safety charity Brake said transparency was important but there was already extensive evidence speed cameras prevented casualties.
The government is reviewing the amount of information it requires from local government. The list is currently under consultation but the government wants to include more speed camera information - which currently is not routinely published - by April 2011.
It could mean details of accident rates at camera sites, car speeds and the numbers of prosecutions or warnings given as a result of cameras being published by local authorities and police forces.
Roads Safety Minister Mike Penning said public bodies had to be "accountable" about the use of taxpayers' money - and information about cameras' effectiveness should be published.
"The proposals I have announced today will help show what impact cameras are having on accident and casualty rates and also how the police are dealing with offenders.
"This is in line with our commitment to improve transparency of government data so that the public are able to make more informed judgements about the work of local and central government."
Julie Townsend of Brake told the BBC: "We agree that transparency is important in explaining road safety work that is being delivered and the impact that it is having.
"However, we already have extensive evidence that speed cameras are highly effective and cost effective - they actually pay for themselves several times over not just through fines but also through preventing casualties.
"What is crucial is we continue to invest in road safety measures like speed cameras which we know to be effective in preventing casualties."
In June she criticised Mr Penning after he announced the government would provide no more money to councils for fixed speed cameras and suggested they could be seen as a "cash cow".
Spokesman for the motoring charity RAC Foundation Philip Gomm said: "Road safety policy should be based on facts and analysis, not rumour and headlines. Where cameras are doing a good job then they should be kept.
"If others are badly sited or can be proved to be about raising money then they should be turned off. What we don't want is a knee-jerk, blanket policy of decommissioning just because someone thinks it is a good idea without the evidence to support the move."
The AA said transparency was an important part of making cameras publicly acceptable and the Parliamentary Advisory Council for Transport Safety told the Telegraph it was the sort of thing better camera safety partnerships would be doing anyway.
Speed cameras were axed in Oxfordshire at the end of July after the county council withdrew £600,000 in funding due to budget cuts. Wiltshire and Swindon Safety Camera Partnership has also been disbanded because of cuts.
But the AA has warned that lives could be risked if more councils scrap speed cameras - after the government cut central funding for speed cameras and reduced the road safety budget by £38m.
Related Internet Links
The BBC is not responsible for the content of external sites.