50p top rate 'can't go on forever', says Boris Johnson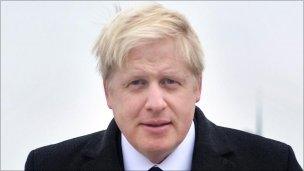 The 50p top tax rate will harm the UK economy if it becomes permanent, London Mayor Boris Johnson has warned.
He also repeated his attack on the government's planned immigration cap.
Employers were "hacked off" that they could not bring talented people into the UK, he told BBC Radio 4's Today programme.
Chancellor George Osborne has indicated that the 50p rate for high earners will not be permanent - but has not said when he will axe it.
It comes ahead of Tuesdsay's 2.5% increase in VAT to 20% - a measure Mr Osborne has said will be permanent.
Mr Johnson, who has been outspoken in his defence of the City, London's biggest employer, said the 50p rate had to be scrapped if the capital was to remain competitive as a world financial centre.
The Conservative mayor told Today: "It's no secret that I think in the long run a 50p tax rate is not going to be competitive with our major rivals.
"They all have lower top rates of tax now than the UK. It can't go on forever, in my view."
The new top income tax rate was introduced by Mr Osborne's Labour predecessor, Alistair Darling, in his final Budget earlier this year.
It was intended as an emergency measure to help tackle Britain's record budget deficit, although Labour leader Ed Miliband now says it should be kept "for the foreseeable future".
Mr Osborne recently told The Spectator magazine that the 50p rate was a "temporary feature of our tax system", but was necessary to ensure a sense of "fairness" so that the "whole country feels that every part of society is making a contribution to the fiscal consolidation".
Mr Johnson has also been a vocal critic of the government's planned immigration cap, which will limit the annual number of migrants from outside the EU to 21,700 from April.
He told Today: "There is a risk that the necessity of putting up a public show of rhetoric will do possible damage to London's competitiveness. I think there is a case for flexibility and I think the government understands that."
He said employers were "hacked off" that "they can't get talent in because of the new quotas".
The government insists it is committed to cutting net migration from its current level of 215,000 to less than 100,000 by 2015, but admits it will need to bring in further restrictions to student and family visas, in addition to a cap on skilled workers, in order to meet that target.
Mr Johnson, who has said he plans to run for a second mayoral term in 2012, when he will face a challenge from Labour's Ken Livingstone, said he was confident London had a "great future".
And he suggested a reported exodus of City fund managers to Switzerland, where the top tax rate can be as low as 12.3%, had not happened.
"We have heard an awful lot about the stampede to Zurich, or wherever, but if you look at the numbers it hasn't happened - but we can't be complacent.
"We are in a battle, we are competing constantly with other growing centres of economic activity, but I think London is very, very well placed to do that."
The High Court ruled earlier this month that a temporary limit of 24,000 non-EU skilled workers, imposed by Home Secretary Theresa May shortly after taking office in May, had been introduced "unlawfully" as MPs had not been granted a vote on it.
Related Internet Links
The BBC is not responsible for the content of external sites.