Control orders are essential for security, warns peer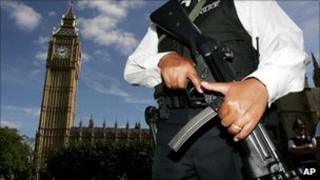 The government would not be forgiven if control orders on terror suspects were scrapped and there was another 7 July-style attack, Lord Carlile has warned.
The Liberal Democrat peer, the independent reviewer of UK counter-terrorism laws, told the Sun control orders were essential for security.
Lord Carlile said he agreed the orders needed to be reformed.
It had been reported that a deal had been reached to scrap them but the Home Office said no decisions had been made.
'At our peril'
Lord Carlile, who is stepping down as the government's independent reviewer of anti-terrorism legislation, has long argued there is no alternative to control orders, which can include curfews, electronic tags, and travel and mobile phone curbs.
He said that while he did not like the idea of the controversial orders, they were necessary.
"Security and police chiefs have made clear the necessity for the orders. We ignore their advice literally at our peril," he said.
"The courage to protect public safety surely will be recognised. The failure to do so will not be forgiven if some terrible terrorism event happens."
A review of counter-terrorism legislation was due to be published before Christmas, but has been delayed until early 2011 because of ongoing negotiations between ministers.
The issue has divided the coalition because the Lib Dems promised during the general election campaign to abolish control orders.
'Balance'
Liberal Democrat deputy leader Simon Hughes said no decision had been made.
"We have a commitment as a party in our manifesto to scrap control orders, but there is absolutely no way that we would scrap control orders and leave the country less safe," he told BBC Radio 4's Today programme.
"We will do nothing that will compromise or prejudice the security of the UK, but we do need to balance again the civil liberties of the citizen against the state."
Introduced under the former Labour government in 2005, they have been strongly criticised by civil liberties campaigners.
The review, which is also looking at the 28-day limit on holding terrorism suspects before they are charged, was announced by Home Secretary Theresa May in July.
It is being overseen by former director of public prosecutions and Lib Dem peer Lord Macdonald.