Show more clarity over coalition, David Cameron urged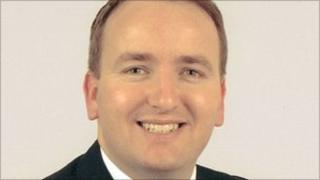 A senior Conservative MP has urged David Cameron to show more "clarity" over future plans for the party's alliance with the Liberal Democrats.
Mark Pritchard said there was "confusion" over whether there would be a pact at the next election to maximise the number of seats for each party.
Several leading Tory figures, including former Prime Minister Sir John Major, have backed the idea.
But Mr Pritchard said such a move could "impact on party morale".
His comments come amid concern among some Tory and Lib Dem MPs over the future direction of the coalition.
In November, Sir John said he hoped the "temporary alliance will turn into a mini-realignment of politics", echoing the sentiment of influential backbench Conservative MP Nick Boles, who has written a book on Liberal Conservatism.
Other senior Conservatives have been quoted as saying they would be "relaxed" about the idea of an electoral pact, with former Social Security Secretary Peter Lilley telling the BBC he could "conceive that we might fight as a coalition".
An electoral pact might see the Lib Dems not standing in constituencies where the Tory candidate has a better chance of winning, and vice versa - or even candidates standing on a joint coalition ticket.
But it would be fiercely resisted by the Tory right and Lib Dem left, who both fear a dilution of their parties' identity and further compromises on policy.
'Encouragement'
The Conservative and Lib Dem leaders have been careful to stress that they plan to fight the next election as separate parties - but have not closed the door entirely on the idea of a pact.
At a press conference last month, Mr Cameron said fighting separately remained the "likelihood" but refused to rule out a deal in which the parties would help each other win seats. He also said he hoped future general election campaigns would be more "polite".
"We will be defending a shared record and talking about some of the things we have achieved together," he told reporters.
His comments come amid claims - denied by Tory leaders - that the party is not fighting as hard as they normally would in the forthcoming Oldham East and Saddleworth by-election in an effort to help the Lib Dems defeat Labour.
Mr Pritchard, MP for the Wrekin and a senior member of the Conservatives' backbench 1922 Committee, said activists were becoming concerned about such tactics in the run-up to May's elections for the Scottish Parliament, Welsh Assembly and English councils.
He told BBC Radio 4's Today programme: "These people need encouragement and clarity and at the moment we have confusion, and I think that could impact on party morale more widely.
"It is not a criticism of the prime minister; it is an encouragement that the party leadership must understand the mandate for a coalition agreement is a temporary one - it is not a permanent one."
Mr Pritchard said he wanted a manifesto with a "cutting-edge and hard-headed" approach to issues like Europe, immigration and welfare reform at the next general election. This would be possible only if the Conservatives stood as a distinct party, he added.
'Apalling'
Another right-wing Tory MP, the former cabinet minister John Redwood, has accused Deputy Prime Minister Nick Clegg of taking too much credit for popular coalition policies - such as the pupil premium, scrapping ID cards, restoring the pensions earnings link and scrapping the third runway at Heathrow - which were also Tory policy.
Meanwhile, Geoffrey Van Orden, a Conservative Euro MP for the East of England, has said 94% of party members he had polled insisted there should not be a joint manifesto with the Lib Dems at the next general election.
"Most people understand the appalling economic legacy and recognize the need for broad-based support to overcome the deficit and get Britain back into growth and competitiveness," he writes on the Conservative Home blog.
"But there is concern that this need to maintain the coalition means that policies in other areas such as Europe and immigration are less robust than they might be.
"I am sure that is why most feel that the Conservative Party should stand on its own clear Conservative manifesto at the next elections."