UK general election system broken, says think-tank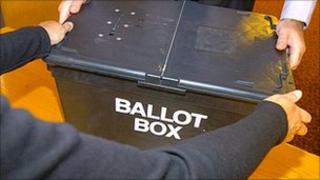 The general election result was determined by just 1.6% of voters in marginal Commons seats, a report by a think-tank suggests.
The Institute for Public Policy Research said the UK had a "broken" electoral system, unable to cope with the rise of minor parties.
This made hung parliaments, like that returned last May, far likelier
Reform was needed to create better representation and more stable governments, the think-tank said.
The think-tank found that 31% of voters - 9 million people - lived in marginal seats which formed the main battlefields under the first-past-the-post system.
And the number whose votes made up the margin of victory in seats which actually changed was just over 460,000, or 1.6%, of the electorate, the IPPR says.
Meanwhile, 34.9% of votes in the 2010 general election were cast for parties other than the "big two" - compared with 3.2% in 1951.
This made single-party government less likely, with the major parties now requiring 85 more seats than their major rivals to secure power and 100 more to enjoy the kind of parliamentary majority needed to rule effectively, the report suggests.
Think-tank director Nick Pearce said: "Britain now has a broken voting system that needs to be fixed. Unless first-past-the-post is reformed, the UK will be left with a voting system that neither delivers fair representation nor single-party government.
"The last election result was not an aberration but a reflection of long-term changes in voting patterns across the UK which significantly increase the likelihood of more hung parliaments in the future. Britain has evolved into a multi-party system, but it still has an electoral system designed for only two parties."