Oldham by-election: Tories 'fighting for every vote'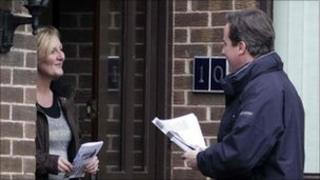 David Cameron has insisted the Tories will fight hard in next week's by-election and rejected claims it will be a referendum on the coalition.
The PM hit the campaign trail in Oldham East and Saddleworth, in support of Tory candidate Kashif Ali.
He denied the Tories were soft-pedalling in the seat to give coalition partners the Lib Dems a better chance.
He also used the visit to the North-West of England to promote the government's growth strategy.
Mr Cameron denied his appearance on the campaign trail was a "token" gesture, claiming he was the first "prime minister in the last 10 years who has been to a by-election" in England.
He defended his "warm words" about the Liberal Democrat candidate, saying "We are working together, so some of the normal political discourse between our two parties is carried out in a slightly more gentle way than it has been up to now."
But he insisted the Conservatives would be "fighting very hard for every vote" and were not taking a "laid-back attitude".
"It is about choosing a new MP for Oldham and Saddleworth, it is not a verdict on Nick Clegg or the coalition or anybody else," he added.
Public anger
The Liberal Democrats are in need of a boost after they registered the lowest opinion poll rating in their history in the wake of public anger over their U-turn on tuition fees.
Paying his second visit to the constituency on Wednesday, Lib Dem leader Nick Clegg said his party were "here to win".
At the general election Labour's Phil Woolas got 31.9% of votes and Lib Dem Elwyn Watkins 31.6%, with Conservative Mr Ali getting 26.4%. The BNP got 5.7% of votes, UKIP 3.9% and the Christian Party 0.5%.
But the result was declared void by a special election court, which found Mr Woolas had lied about Mr Watkins in election literature.
Mr Woolas was stripped of his seat, expelled by the Labour Party and banned from standing for election for three years.
Labour leader Ed Miliband, who was in the constituency on Monday to support the party's candidate Debbie Abrahams, is hoping to capitalise on public anger over this week's VAT rise and government cuts.
Mr Cameron used his visit to the North-West to stress that the government's top priority in the new year was economic growth - but Labour accused him of lacking a "credible" recovery plan.
The full list of candidates (in alphabetical order) is:
Debbie Abrahams (Labour)
Derek Adams (British National Party)
Kashif Ali (Conservative)
Peter Allen (Green Party)
David Bishop (Bus-Pass Elvis Party)
The Flying Brick (Monster Raving Loony Party)
Loz Kaye (Pirate Party of the United Kingdom)
Stephen Morris (English Democrats)
Paul Nuttall MEP (UK Independence Party)
Elwyn Watkins (Liberal Democrats)