David Miliband pitches TV ideas to BBC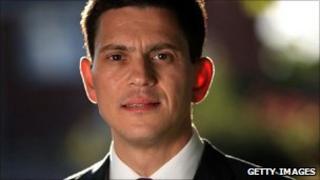 Former Foreign Secretary David Miliband has pitched some TV programme ideas to the BBC, it has emerged.
Mr Miliband, a long-time favourite to become Labour leader, returned to the backbenches after narrowly losing the contest to his younger brother, Ed.
Ed Miliband says the door is open for him to return but his brother says he has no plans to do so "at the moment".
David Miliband's spokesman said he was "talking to a range of organisations" about his interests in foreign affairs.
Mr Miliband was foreign secretary under the previous Labour government and the favourite to take over from Gordon Brown, who stepped down after Labour lost power in the general election.
But although he won a higher percentage of votes from Labour MPs, MEPs and party members in Labour's leadership contest in September - his brother's success with trade union members and affiliated societies pushed him into first place.
David decided against standing for elections to his brother's shadow cabinet and there has been much speculation about his future plans.
Last month he rejected rumours that he might become the UK ambassador to Washington when Sir Nigel Sheinwald retires, writing on the micro-blogging site Twitter: "Seen the UK ambassador to US rumours. I am not in for it and wouldn't take it."
He also told his local paper, the Journal, he had "no plans to return to front line politics - at the moment, that is".
On Sunday the Observer reported he was considering a role in television and compared it with former Tory leadership hopeful Michael Portillo's move into TV and documentaries after leaving the Commons. It said Mr Miliband intended to remain MP for South Shields.
The BBC said he had approached it "with some programme ideas".
"The BBC receives suggestions from a wide variety of sources and these will be considered in the same way as any others," it said, adding "no substantive discussions" had taken place.
A spokesman for Mr Miliband said: "David is talking to a range of organisations about his interest in foreign and environmental policy."