David Cameron in trade push during Chinese talks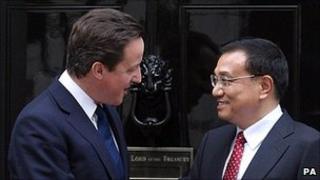 UK prime Minister David Cameron has held talks with Chinese vice-premier Li Keqiang focused on boosting trade links between the two nations.
Ahead of the meeting, British and Chinese firms signed commercial agreements worth an estimated £2.6bn.
Mr Cameron said two-way trade between the two countries provided a "real opportunity" for the UK economy.
Mr Li, tipped to become China's next premier, has also been pressing to get EU trade bans against China lifted.
The EU has an arms embargo in place that limits high-technology sales to China which could have a dual military use.
'Momentum'
Britain, meanwhile, wants to urge China to open its markets and avoid protectionism.
Downing Street said boosting Sino-British trade was important for jobs and economic growth and the talks would "build on the momentum" created by Mr Cameron's trip to China last November.
Earlier, Mr Li and Deputy Prime Minister Nick Clegg were present at the signing of £2.6bn worth of business deals between British and Chinese firms.
In the most significant of these, the operator of the Grangemouth oil refinery struck an agreement with China's largest oil and gas firm to help safeguard the future of the Scottish facility.
The Scottish government said this would help protect 2,000 jobs.
Elsewhere, BP and the China National Offshore Oil Corp signed a deal on deep-water exploration in the South China Sea, while Jaguar Land Rover committed to sell 40,000 vehicles in China in 2011.
Agreement has also been reached to bring two giant pandas to Edinburgh Zoo, the first to live in the UK for 17 years.
Human rights
China's ambassador to the UK, Liu Xiaoming, told the BBC that Beijing hoped to "foster a partnership of co-operation" with the UK to the benefit of both their economies.
Mr Clegg said the meeting was "a real milestone" in what he described as the "immensely significant" relationship between the two countries.
The two men had not shirked from discussing "difficult" issues such as human rights, Mr Clegg added, acknowledging that "persistent differences" remained between the countries.
Mr Cameron raised concerns about human rights during his recent trip to China, saying economic freedom should go "in step" with political reform.
Mr Li, who held talks with Scottish first minister Alex Salmond on Sunday, has brought with him about 50 government officials and another 100 business leaders - one of the biggest accompanying delegations from the east Asian nation ever.
He will also meet other key government figures, including Chancellor George Osborne, and deliver a speech to business leaders before returning to Beijing on Wednesday.