Profile: Lord Taylor of Warwick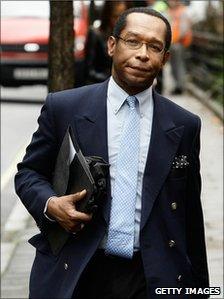 The first parliamentarian to stand trial - and be convicted - over their expenses, Lord Taylor of Warwick was once tipped as a future cabinet minister.
He already had a place in the record books after becoming the first black Conservative peer in 1996 - he said he was "gobsmacked" to hear he was being elevated to the Lords, on the recommendation of the then PM John Major.
He took the title Lord Taylor of Warwick with his elevation to the Lords following two unsuccessful attempts to become a Conservative MP - in Birmingham Perry Barr in 1987, then in Cheltenham in 1992.
He was born John David Beckett Taylor in 1952 to Jamaican immigrants in Birmingham - his father, Derief Taylor, was a professional cricketer who played for Warwickshire and the West Indies, his mother Enid was a nurse.
From head boy at Moseley Grammar School, Birmingham, he studied English literature and law at Keele University followed by the Inns of Court School of Law in London. He was called to the bar in 1978, when he joined the same chambers as Justice Secretary Ken Clarke.
There followed a varied career, including a stint as a special adviser in the Home Office between 1990 and 1991, as a TV and radio presenter and he ran a PR company - Warwick Communications.
In 2002 he launched an unsuccessful bid to become BBC chairman, suggesting its shows were "boring and bland".
Having become politically active as a councillor in Solihull in the 1980s, he chose the Conservative Party as his political home - saying he believed Labour's attitude towards black people was patronising.
But he was to take issue with his own party over its own attitude to race - challenging successive Tory leaders over their response to racism within their own ranks.
Cheltenham had been considered a Conservative safe seat but it was lost to the Lib Dems by 1,668 votes in 1992, after a campaign in which John Taylor was subjected to racist abuse by some local Tories.
In 2001 there were rumours he might defect to Labour over a race row surrounding the then Conservative MP John Townend just before the general election.
Lord Taylor threatened to leave the party over then leader William Hague's "pathetic" response to remarks by Mr Townend, who had suggested immigrants were undermining the UK's "homogenous society".
He accused Mr Hague of being "frightened of a certain right-wing element" within the party.
He stayed with the Conservatives but remained critical of its response to race rows.
In August 2001, in the wake of another row about Edgar Griffin - father of BNP leader Nick Griffin - and one of the people on Iain Duncan Smith's Tory leadership campaign, he warned race was "a cancer that is in the body that will spread and eventually kill the Conservative Party".
In 2002 he called for Tory frontbencher Ann Winterton to be sacked over a racist joke - when she was, he warned that the party was simply "putting a sticking plaster on a wound - they can't just wait for the next wound to erupt".
Stories about his expenses surfaced in the Sunday Times in August 2009.
He later resigned the Tory whip after being charged with expenses fraud and has now been found guilty of making £11,277 in false claims.
Southwark Crown Court heard he claimed travel costs between his Oxford home and Westminster, as well as subsistence for staying in London.
He said he had made the false claims "in lieu of a salary" and had been acting on the advice of colleagues, but the jury found him guilty by an 11-1 majority verdict.
He was later sentenced to 12 months in jail for his offences.
Related Internet Links
The BBC is not responsible for the content of external sites.