Iraq Inquiry: Blair to deal with Goldsmith claims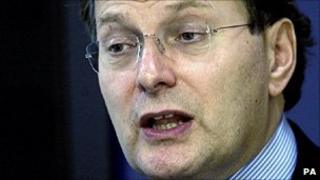 Tony Blair will deal with claims by Lord Goldsmith, his attorney general, when he appears before the Iraq inquiry on Friday, Mr Blair's spokesman said.
Lord Goldsmith told the inquiry he was "uncomfortable" about statements made by the then PM before the 2003 war.
He said Mr Blair's public suggestion Britain could attack Iraq without further UN backing was not compatible with his legal advice.
The disagreement emerged in written evidence published by the Iraq Inquiry.
The Chilcot committee is holding an inquiry into the run-up to the 2003 war and its aftermath.
Lord Goldsmith advised Mr Blair on 14 January 2003 that UN Security Council resolution 1441 was not enough on its own to justify force against Iraq.
But on 15 January Mr Blair told MPs that while a second UN resolution was "preferable" there were circumstances in which it was "not necessary" - in the event of the use of an "unreasonable veto" by a Security Council member.
He also told the BBC's Newsnight programme on 6 February 2003 that if a country vetoed a further resolution "unreasonably" then "I would consider action outside of that".
In a written question from the inquiry panel, Lord Goldsmith was asked if he felt those words were "compatible with the advice you had given him".
Lord Goldsmith replied simply "no".
He said he could not remember precisely when he had become aware of the comments, but told the inquiry: "I was uncomfortable about them and I believe that I discussed my concerns with [then foreign secretary] Jack Straw and my own staff."
'Proper basis'
He said: "I understood entirely the need to make public statements which left Saddam Hussein in no doubt about our firmness of purpose.
"It was more likely that he would co-operate if he thought that there was a real likelihood of conflict.
"My concern was that we should not box ourselves in by the public statements that were made, and create a situation which might then have to be unravelled."
In his evidence to the inquiry last year, Lord Goldsmith acknowledged he had changed his mind on whether a second UN resolution was needed ahead of military action in March 2003.
He had thought one was needed but had ultimately concluded, shortly before the war began, that military action was authorised by existing UN agreements dating back to 1991.
He denied that this came as a result of political pressure from No 10 or anyone else.
Lord Goldsmith's statement is among various transcripts from private hearings and written evidence published by the Iraq Inquiry on Monday.
Others include hearings with Sir Jeremy Greenstock - the former ambassador to the UN, former Ministry of Defence permanent secretary and former UK ambassador to Washington Sir David Manning.
Mr Blair will give evidence to the Iraq inquiry for a second time on Friday.
The former prime minister's spokesman said: "Tony Blair will deal with all these issues in his evidence on Friday. The issue of the so-called unreasonable veto was not the basis on which Britain took part in the military action.
"The basis was that given in the attorney general's advice, which he has confirmed in the statement published today (Monday). What Peter Goldsmith's statement does is make it categorically clear that there was a proper legal basis for the military action taken."
Other witnesses to be recalled include Former Foreign Secretary Jack Straw and former Chief of the Defence Staff Lord Boyce.