Peer on expenses charges 'did not want to make money'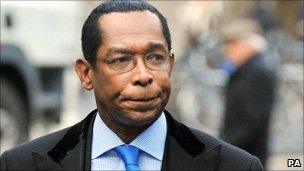 A former Tory peer has emotionally insisted he did not "want to make money" from his role.
After banging his fist on the dock, Lord Taylor told a court he was in public life "to help people".
The former barrister is on trial accused of claiming for travel costs between a home in Oxford and the Lords, when he actually lived in London.
The peer, who denies the charges, said sorry to the judge for his outburst, but was told this was not necessary.
Lord Taylor is the first parliamentarian to stand trial over allegations relating to his expenses claims.
He faces six charges of false accounting between March 2006 and October 2007.
The prosecution says he wrongly claimed for travel as well as night subsistence.
Appearing at London's Southwark Crown Court, Lord Taylor broke down as the jury was shown a video of young people paying tribute to his mentoring skills, as part of his work with his Warwick Leadership Foundation.
He was asked by his barrister if he had ever done anything dishonest.
Hitting the table with his fist, he cried: "No, I have not. I don't want to make money. I just want to help people."
He later apologised to the judge for the outburst.
Asked by his lawyer if he had ever made false claims for allowances or been in trouble with the police, Lord Taylor answered: "No."
The peer - who has resigned the Conservative whip - described how he had been brought up in a poor area of Birmingham and how he had reached his position as the first black Conservative member of the House of Lords through careers in law, the media and charity work.
He told the court he had been offered a peerage by then Prime Minister John Major in 1996 after narrowly missing out on a Commons seat in 1992, and that he had learned to tolerate constant racial abuse.
Lord Taylor, 58, of Lynwood Road, Ealing, west London, also said he had taken a pay cut when entering the House of Lords.
As a lawyer, he had earned about £100,000 a year, but this had "dropped alarmingly" to £50,000 when he spent most of his time on his parliamentary duties.
He added: "A lot was expected of me. I had great respect for John Major, and frankly, I didn't want to let him down."
Lord Taylor said he remembered being given some very brief verbal advice on the expenses system and a guidebook, but he had relied on speaking to other members to guide his actions.
He told the court it had been made clear to him that expenses were not seen in the typical sense, when people are paid back money they have already spent.
He said: "They were actually allowances. It was very different to the House of Commons, because there you were paid, but in the Lords you were unpaid.
"I very quickly got the impression that they were allowances in lieu of salary."
A witness for the defence, Harvey Thomas, who was press director for Margaret Thatcher during her time as prime minister, and a former employee of evangelical Christian preacher Billy Graham, described Lord Taylor as "possibly a little too trusting and possibly not pushy enough".
He added: "He was a very trusting individual. If I would call and say something, I wouldn't expect him to question it at all."
A second character witness, Sir Quentin Thomas, president of the British Board of Film Classification, for which Lord Taylor was vice president, described him as "honest and trustworthy" and a "man of natural grace and modesty and good sense of humour".
The court was also told of his many charitable works - which included work with a football supporters organisation and as a patron of the children's charity Kidscape, as well as Christian missionary work.
Under cross examination, he conceded that he had claimed expenses for car journeys he had not made but repeatedly insisted that "in reality I was making far greater journeys" and that he had actually lost money, not made it, as working peer.
"The reality is that I was travelling much farther than this in pursuance of my duties as a peer," he told the court.
He said he felt an extra responsibility as the first black Conservative member of the House of Lords, and had received "waves" of invitations to speak around the country, as well as being in demand as a spokesman for his party - recalling one occasion when they insisted he appear on a TV discussion programme about racism because "you are our only black one".
He also accepted the Chancellorship of Bournemouth University as a direct result, he told the court, of being a peer.
The extra demands on his time wrecked his marriage he told the court, and he was divorced from his wife in 2005.
He said there was nothing "secretive" about the practice of claiming expenses in lieu of salary - and claimed he knew of other peers who had done it, although he could not remember their names.
He said he had mentioned concerns about the "vague" allowances system to the then Black Rod, General Jones, in 2000, claiming the Commons official told him: "Like many things in the House of Lords, my Lord, we muddle along - but it works."
The jury also heard that, when interviewed under caution at St John's Wood police station, Lord Taylor had refused to answer any questions, instead reading a prepared statement.
He told officers: "I am aware of the allegations made against me. All of my expenses claims were made in good faith. I refute the allegations."
Lord Taylor worked as an adviser to Home Office ministers in the 1980s and 1990s. The trial continues.